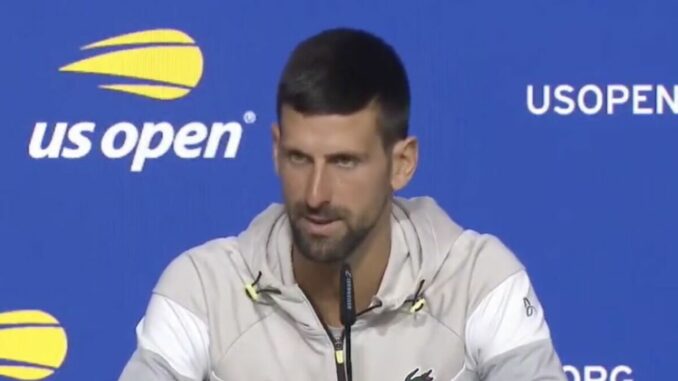 Novak Djokovic on course for 24th grand slam
Novak Djokovic will have to go against the home crowd in the US Open semi-finals. But he has already warned opponent Ben Shelton he will "thrive" in that environment.
Djokovic faced home favorite Taylor Fritz on Arthur Ashe on Tuesday and cruised to a straight-sets win with a dominant performance. He will now face another American on Friday after Shelton beat Frances Tiafoe in the final game of the night.
The Serbian superstar has known for a few days that two Americans would stand in his way en route to the final. Speaking after beating Fritz, he warned that he is more than happy playing in front of a crowd backing his opponent. 
"It's expected that people are backing the home player," Djokovic warned. "There's nothing wrong with that. I actually like the energy.. I'm fine with that. 
"I actually thrive on that energy. Whatever the energy is, I use it as fuel."
Djokovic is on a 30-match win streak against American players. He'll hope to make that 31 on Friday against Shelton.
Speaking after his win over Fritz and before Shelton beat Tiafoe, Djokovic declared: "I'm going to be playing another American I gotta be ready for whatever is going to come my way from the opposite side of the net. 
"Both Tiafoe and Shelton are very charismatic…It's going to be a joy watching them and let's see what happens on Friday."
Victory over Tiafoe was the biggest moment in young Shelton's career so far. After his triumph, he was overjoyed and thanked fans for staying late into the night. 
Don't miss…
Novak Djokovic enjoys singalong with US Open crowd as he steals microphone[LATEST]
US Open star Coco Gauff shares sympathy with Ostapenko as scheduling row erupts[LATEST]
Novak Djokovic cruises past Fritz at US Open despite raising fitness fears[LATEST]
We use your sign-up to provide content in ways you've consented to and to improve our understanding of you. This may include adverts from us and 3rd parties based on our understanding. You can unsubscribe at any time. More info
"It was a hot one in here tonight wasn't it guys?" Shelton said. "I feel like I left it all out here tonight. Emotional battle. Thanks for staying so late. Hell of an atmosphere. Thanks for pushing me off the line." 
Asked about facing Djokovic next, he said: "Yeah. He's won maybe 23 of these… something like that? It doesn't get much better than that.
"It's been tough the last two matches, I've been playing Americans, but hopefully you guys bring it for me two nights from now!" 
Source: Read Full Article