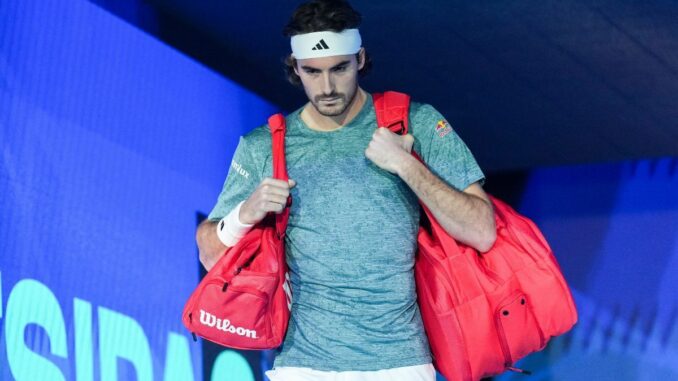 Stefanos Tsitsipas has already been told that he could expect a sour start to next season at the Australian Open. The Greek star started 2023 by reaching the final in Melbourne but Greg Rusedski believes he could suffer an early exit on the same stage come January. In a brutal assessment, the Prime Video commentator claimed that Tsitsipas was going "backwards" following his ATP Finals defeat to Jannik Sinner.
Tsitsipas suffered a one-sided 6-4 6-4 loss to Sinner to start his ATP Finals campaign on Sunday, only winning 10 points on the 22-year-old's serve. The world No 6 is still alive in the tournament thanks to the round-robin format, meaning he has at least two more matches to play and can still advance to the semi-final depending on the results of others in his group.
It was an impressive display from Sinner on serve as he fired down nine aces during the 85-minute match but retired pro Rusedski was still alarmed by Tsitsipas' lack of progression. "You look at both players, Sinner has improved out of sight, Tsitsipas has gone backwards," the former world No 4 told Prime Video.
"The backhand isn't very good. Sinner basically knows exactly what he needs to do to beat this man and it was very one-sided. And Sinner will be absolutely delighted to come through so easily today."
Click here to join our WhatsApp community to be the first to receive breaking and exclusive tennis news
Just in Nick Kyrgios ends war of words with rapper Drake after Wimbledon blame[LATEST]
A few months ago, Tsitsipas would have been the favourite in a match-up against Sinner – especially after starting the year by reaching his second Grand Slam final at the Australian Open. But Rusedski now thinks that the 10-time title winner is worlds away from the player he was at the start of the season.
The former British tennis star also referenced Tsitsipas' see-saw coaching situation this year, as he brought Mark Philippoussis into the team in January ahead of his Australian Open run before they parted ways in Spring. The pair linked up again in August but they split up again a few weeks later and Tsitsipas rehired his father Apostolos.
Rusedski continued: "I think the first six months of the year he was brilliant, down under in Australia he played some of the best tennis he's played in his life. Mark Philippoussis comes back to the team, he wins in [Los] Cabos.
Support fearless journalism
Read The Daily Express online, advert free
Get super-fast page loading
Don't miss…
Djokovic warned of 'absolute bomb' combination as he prepares for ATP Finals[EXPERT]
Great Britain overcome heartbreaking start to beat Sweden at BJK Cup[RECAP]
Novak Djokovic gives brilliant answer when asked for bold ATP Finals prediction[RESPONSE]
"And then all of a sudden, that relationship broke down, there wasn't the communication that needed to be there and he isn't the player he once was. The backhand slice has gotten worse, the block [return] has gotten worse, the second serve, he doesn't have the placement."
And the former player-turned-pundit is now concerned about Tsitsipas' chances at the beginning of the 2024 season, where he will be defending 1,200 ranking points from this year's Australian Open final run. "I'm sorry, he's not the player he was at the beginning of the season," he added. "And if he doesn't make those improvements at the beginning of 2024, he won't be in the top 10 to start the year – he's going to go out early in Australia."
Source: Read Full Article