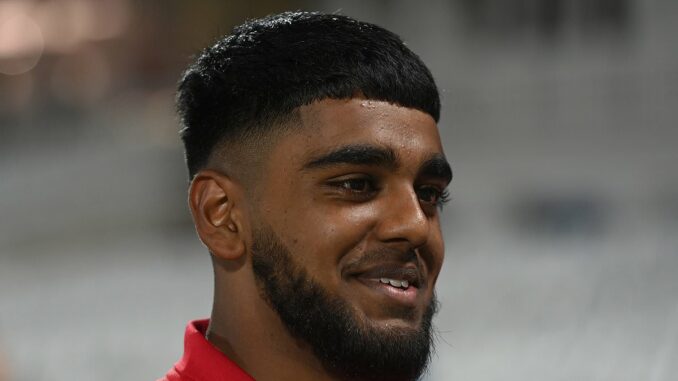 Rehan Ahmed hit the ground running in his first home appearance for England – just hours after passing his driving test… now, the 19-year-old insists he's taking 'every ball as it comes'
Rehan Ahmed took two for 27 in four overs during England's New Zealand clash 
The 19-year-old completed the feat just hours after passing his driving test 
The youngster stands an outside chance of featuring at the World Cup in India 
After passing his driving test on Monday, Rehan Ahmed rocked up to Trent Bridge – his local ground – on Tuesday and was comfortably the pick of the England bowlers, taking two for 27 in four overs on his first home appearance for England.
With younger brother Farhan, 15, getting called up to England's U19 side on Tuesday for two Youth Tests against Australia U19s later this month, it has already been quite the week for the Ahmed's.
Farhan bowls off-spin, while Rehan bowls leg-spin, so the possibility of both featuring in the same England side one day is a genuine one, to say the least.
Rehan, who only turned 19 last month, had to ask England white-ball coach Matthew Mott if he could miss training for his driving test. Such was the excitement after passing on his first attempt that he messaged Mott that evening to ask if he was in the England side for the fourth T20 against New Zealand.
Mott gave him the thumbs up and following a brief cameo with the bat, Rehan picked up the wickets of Tim Seifert and Glenn Phillips.
Rehan Ahmed (pictured) put on an impressive display in his first home appearance for England
The 19-year-old took two for 27 in four overs during England's clash with New Zealand 
'I messaged Motty (on Monday) and asked if I could know the plan. I was on the edge and he told me,' said Rehan. 'I enjoy just being around the group, as long as I am getting better. If I'm bowling and doing my thing, then if I play it makes it even better.
Rehan's younger brother, Farhan (above), was recently called up to the England U19 side
In a spell after the powerplay of New Zealand's run-chase, Rehan bowled alongside his childhood icons in Adil Rashid and Moeen Ali and admitted that it was a surreal feeling, especially as someone from a British-Asian background.
'100% (dream about bowling with Rashid),' said Rehan. 'Him and Mo are people we look up to as an Asian community. Everyone in England looks up to them, so to play with them is a special feeling.'
Though 16 years separate Rehan from Rashid, who has more ODI and T20 wickets than any other spinner in England history, he revealed how that relationship has blossomed since Ahmed became a part of the England setup last winter.
'It's chilled. We talk about bowling quite a bit. We just talk about how different we are as bowlers. He (Rashid) is probably five times the bowler I am, he has four different leg-spinners! He's played a long time, has a lot of experience,' said Rehan. 
'He was young, played and it didn't go well for him, then he came back and became the best bowler. So he's been through a lot. To pick his brains through this experience, that's what I've learnt from him,' added Rehan.
Former England captain Eoin Morgan sang his praises on Sky for the teenager, who became England's youngest-ever Test cricketer in Pakistan in December.
'I was very impressed with him. He controlled his lengths very well and went through his variations to some good players under pressure,' said Morgan. 
England coach Matthew Mott allowed Ahmed to miss practice to do his driving test
'It's not an easy thing to do when you're bowling to someone like Glenn Phillips who can dismiss one of your best balls out of the ground and be very intimidating to bowl at. But he held his nerve, got the wicket of Phillips and finished with tidy figures.'
Despite touring Pakistan and Bangladesh in the past year, the World Cup in India has perhaps come a little too early for the Leicestershire all-rounder. England are not short of spin options with Rashid, Moeen, Livingstone and Root but there is little doubt that Ahmed will be ready if called upon.
Though 19, maturity is not an issue as shown by the way he has taken like a duck to water with international cricket. Neither is confidence. With Moeen returning to Test retirement after the Ashes, Ahmed is expected to be a part of the touring squad to India for the five-Test series next year.
'I feel very relaxed now. I felt relaxed in Pakistan, but there were obviously nerves with it being my first game,' said Rehan. 'Now, I don't really care about the outcome. I just take every ball as it comes.'
Source: Read Full Article