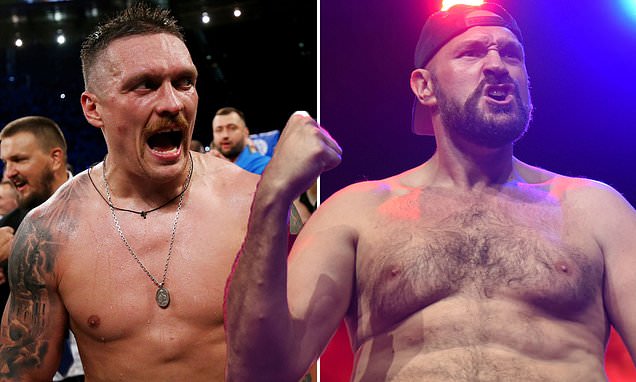 Tyson Fury casts doubt over potential undisputed heavyweight title fight with Oleksandr Usyk… as the Gypsy King labels the Ukrainian a 'bottler'
Tyson Fury has suggested that a fight with Oleksandr Usyk will not materialise 
The two heavyweight stars have been tipped to settle their feud inside the ring 
Fury lambasted Usyk and labelled him as a 'bottler' during his press conference
Tyson Fury has cast his potential undisputed world heavyweight title fight with Oleksandr Usyk into deeper doubt.
At the London launch of his crossover battle against MMA star Francis Ngannou in Saudi Arabia next month the Gypsy King poured scorn on Usyk in the wake of his controversial win over Daniel Dubois two weeks ago.
'Once a bottler always a bottler', Fury said of Ukrainie's rival champion. 'And that goes for Dubois as well.
'I'd knock out Usyk easy. He bottled it when Dubois hit him with a low blow. He was rolling around on the canvas squealing like a p**** b****'.
'I've taken worse than that in the balls than he did and I carried on like a fighting man should.
Tyson Fury (pictured) has suggested that a fight with Oleksandr Usyk will never materialise
Usyk (pictured) has been tipped to share the ring with the Gyspy King at some point this year
'Then Dubois bottled it when he was put down. Both are quitters. Proven.
'Usyk surprised me because I thought he was a warrior. Now we know he's not. I wouldn't stop him with a body shot. I'd knock him out with punch to the chin.
'He would never get up the way I always do if I'm put down. If the fight ever happens he will have to come to me like the little man he is.
'After what we've seen now he can't expect a big share of the money. A p**** can't come to the rich man's table and expect the same deal.
'I'll do the fight (probably in the Saudi Kingdom again) if he is willing to take it on the right terms.
'But does he really want it? Or will he just find someone to take peanuts again like he did against Dubois?
'We'll see. If he doesn't fancy the Gypsy King I've got other big projects coming up.'
Fury will take on mixed martial arts star Francis Ngannou (R) in a boxing bout on October 28th
Source: Read Full Article