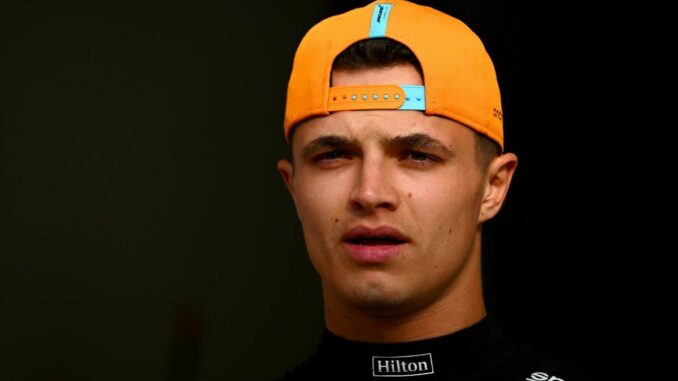 Max Verstappen sent offer to quit Red Bull and join F1 rival keen to be his team-mate
Lando Norris has fuelled rumours of a future move to Red Bull by insisting that he doesn't owe McLaren everything despite them having taken a chance on him as a rookie four years ago. Norris is widely regarded as one of F1's most talented drivers, with his consistently strong performances having led to speculation that he could move to a top team in the near future.
The 23-year-old has spent the entirety of his F1 career with McLaren, who installed him as a rookie in 2019 before tying him down to a long-term contract until the end of 2025. He has repaid their faith in him by winning over 500 total points for the team, claiming eight podium finishes in the process.
Norris has recently been linked with a potential move to Red Bull amid the ongoing uncertainty over Sergio Perez's long-term future as Max Verstappen's team-mate. The McLaren ace has since hinted that he would be open to a better opportunity if one arises, although he was quick to insist that he remains happy in his current surroundings.
"I owe McLaren a lot, but I don't owe them my life," he told RaceFans. "Obviously there's always been things going on and there's been chats in the past and things like that, like there is with every driver, any time a contract comes to an end.
Click here to join our WhatsApp community to be the first to receive breaking and exclusive F1 news
JUST IN: George Russell teased by Albon over new salary with Lewis Hamilton miles ahead
"McLaren, generally, has always come out to be one of the best options that I could do, both short-term and I guess at this current time, a longer-term thing. There are times I could have left and then McLaren could have done well-ish like into 2020-21, and you'd be like 'why? What a stupid move'.
"There haven't been that many other opportunities to do a lot better. There's been some opportunities here and there, but Ferrari has been pretty much booked. Mercedes has been pretty much booked. Red Bull, there's always stuff going on. So there are always the little things but McLaren's always ended up being the best option, that's why I'm here still.
We use your sign-up to provide content in ways you've consented to and to improve our understanding of you. This may include adverts from us and 3rd parties based on our understanding. You can unsubscribe at any time. More info
Don't miss…
Nico Rosberg vows to inflict 'Rosberg curse' on Max Verstappen to end F1 streak[NEWS]
FIA punishment for Lewis Hamilton 'not enough' as Brit fortunate in penalty row[REACTION]
Michael Schumacher health update as F1 legend 'a case without hope'[LATEST]
"Every year I'm here always adds to this story of me wanting to win more and more with the team and with McLaren, because I think that makes it to be more deserving once the good times come."
It remains to be seen whether Norris will end up moving to Red Bull at some stage, but it seems unlikely that it would be at the end of the current season. The reigning champions have said that Perez will stay on until at least the end of 2024, at which point a change might be on the cards, but only if Red Bull can reach an agreement with McLaren to end Norris's contract a year early.
Follow our Express Sport page on Instagram here.
Source: Read Full Article