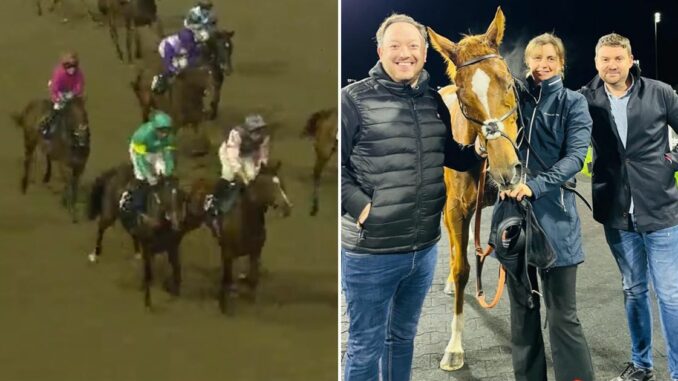 Steve Whiston was left "heartbroken" after the tragic death of his horse during an abandoned race.
Lunar Space suffered a fatal injury during a race at Chelmsford on Thursday (October 19) night not long into the contest. The 8.30pm race was called off mid-race in order for medics to treat the five-year-old, despite the horses initially continuing to run. The Jamie Osborne-trained gelding endured a knock early on in the race before losing his action.
His injury led officials to rush onto the track with hazard flags and stop whistles in order for the jockeys to stop their horses before they could reach the injured Lunar Space. However, there was nothing the medics could do as the horse died from the injury, which left co-owner Steve Whiston devastated.
READ MORE:Horse trainer's 40-1 shot beats ex-wife's £450,000 odds on favourite in race
READ MORE:Top jockey forced to apologise after making prostitute joke during live TV interview
Whiston – who is part of the The Judges & Partner syndicate who own Lunar Space – posted on X as he paid tribute to the horse writing: "Heartbroken doesn't even come close. Thank you for all the amazing memories. Days that will live with me for a lifetime. Rest easy, Space."
He posted a picture of Lunar Space alongside his heartfelt caption on the social media platform as fans flocked to the comments section to send their well wishes to Whiston. One fan wrote: "Sincerest of condolences, a beautiful horse. RIP Lunar Space," while another commented: "Was horrific to watch last night steve hope all is ok and lunar rests in peace."
Although the race was voided without further incident, how it was brought to a stop will be investigated by the BHA. The method used to bring the race to a stop will be investigated by the BHA as usually a yellow 'stop race' flag would be waved in order to tell jockeys to pull up their horses immediately.
However, in this instance, the flag wasn't used as jockeys instead had to use their instincts to pull up their horses when they saw officials rush onto the course. The stewards' report read: "An enquiry was held to consider the circumstances around whether this race should be declared void.
"The Clerk of the Course, David Egan, Dougie Costello, Oisin Murphy and Luke Morris were interviewed and shown recordings of the incident. Having successfully deployed hazard flags and whistles, in the home straight, the riders had sufficient time to safely pull up their mounts. After hearing the evidence, the Stewards were satisfied to declare the race void on the grounds of welfare."
Source: Read Full Article