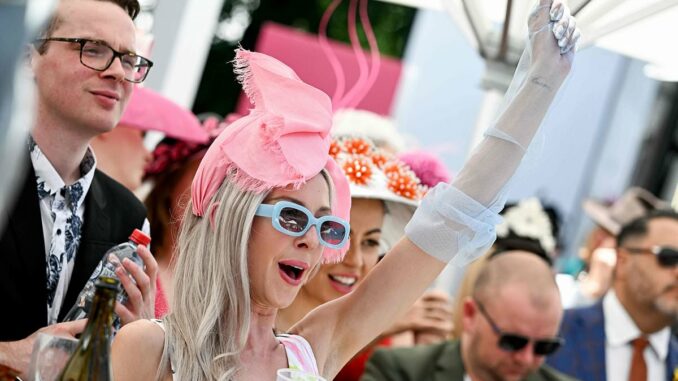 Mark Zahra goes back-to-back to win Melbourne Cup 2023 aboard Without a Fight after winning the Caulfield Cup a fortnight ago
Was the 163rd running of the Melbourne Cup
23 local and international horses raced over 3200m
Race that stops a nation had $8million in prize money  
Mark Zahra has claimed the Caulfield Cup and Melbourne Cup double after storming home to win at Flemington on Tuesday.
Zahra rode the 2022 winner Gold Trip and made it back-to-back after gambling on Without a Fight this Spring Carnival.
The win makes Without a Fight only the 12th horse in history to claim the Caulfield Cup/Melbourne Cup double. 
Without a Fight stormed home to beat the field of 23 local and international horses races over 3200m for a massive $8million in prizemoney. 
The Irish gelding paid $7 for the win, with Soulcombe finishing second and $100 outsider Sheraz claiming third in a huge shock.
But Zahra was the talk of the day, after making the huge call to ditch Gold Trip after winning the Melbourne Cup aboard the French stallion last year. 
Zahra signals two for his second Melbourne Cup win in a row, before scolding himself and calling himself an 'idiot'
Zahra celebrates with the crowd after making the bold call to ride Without a Fight instead of Gold Trip at the Melbourne Cup
It was a decision that paid dividends, after pipping Gold Trip to win the Caulfield Cup and then claiming the big prize at the Melbourne Cup.
It was also a decision that was rewarded with a $4.4 million payday. 
'I said to Mum all these years where he couldn't get a ride because he's a heavyweight and now he had to choose between the two favourites. Unbelievable. That is unbelievable,' trainer Emma Freedman said.
Commentator Michelle Payne, who famously won the 2017 Melbourne Cup aboard 100-1 outside Prince of Penzance, praised Zahra for his composure down the straight.
'You have to handle the big races and occasions and treat it like another race. That's basically what it is,' she said.
'You can't let the occasion get to you. Interesting to hear Mark was so confident at the 400m mark. You wouldn't hear many jockeys say that.
'He was so lucky to be on a horse that could take him there. You could see he navigated it to perfection.'
Zahra was lost for words, scolding himself for holding up two fingers for winning two Melbourne Cups and calling himself an 'idiot'. 
'The stars aligned for Gold Trip last year and aligned for this horse this year. Just a few things and the way he won the Caulfield Cup, I was confident he would run it,' Zahra said.
Zahra chose Without a Fight over Gold Trip this Spring Carnival and has now claimed the Melbourne Cup for the second time in a row
Zahra rode Gold Trip to victory at the 2022 Melbourne Cup, but changed horses to Without a Fight this year
Zahra and Without a Fight went head-to-head with Gold Trip at the Caulfield Cup in a memorable finish
Speaking later, Zahra admitted to giving Gold Trip 'a bit of a pat' before the Cup, but said he had moved on from last year's glory.
I still give him a wink but I've moved right on. My sole focus was to win again on this horse' 
Fellow trainer Sam Freedman described Zahra's ride as 'extraordinary'.
'He got him onto the rail from a wide gate, relaxed, swimmed him off and pretty confident probably the 800m he was travelling. He just needed the brakes to come. He's a freak. No doubts on the trip there late. He was excellent.' 
Before the race even jumped there was plenty of drama preceding the 163rd running of the Melbourne Cup at Flemington.
Cleveland was scratched on Monday on the advice of vets after the horse recorded an elevated temperature.
Thousands of revellers turned out for the 2023 Melbourne Cup despite the threat of rain and thunderstorms on the day
There was a full day of racing action including the Subzero Handicap won by Daniel Stackhouse riding The Maggstar
The race that stops a nation didn't disappoint once again to the delight of the capacity crowd at Flemington
New Zealand-trained hope Alenquer was also in doubt, which would have been disastrous as it would have robbed retiring champion jockey Damien Oliver of one final ride in the Cup.
He only passed a vet examination at 3.30am on the day of the race with Racing Victoria saying: 'the gelding had improved significantly overnight and as a result was passed suitable to race'. 
European superstar Vauban was the early favourite to win and attracted massive bets including almost $1million placed by one punter.
It was also a special day with Frank Reys honoured at Flemington with a tribute to the only First Nations jockey to win the Melbourne Cup.
He was also the only jockey to win from barrier 24 when he saluted in 1973 aboard Gala Supreme.
MELBOURNE CUP 2023 FINAL FINISHING ORDER ALL HORSES 
1. Without a Fight
2. Soulcombe
3. Sheraz
4. Ashrun
5. Daqiansweet Junior
6. Interpretation
7. Absurde
8. True Marvel
9. Vow and Declare
10. Military Mission
11. Okita Soushi
12. More Felons
13. Lastotchka
14. Vauban
15. Future History
16. Breakup
17. Gold Trip
18. Virtuous Circle
19. Serpentine
20. Kalapour
21. Alenquer
22. Magical Lagoon
Failed to finish. Right You Are
Source: Read Full Article