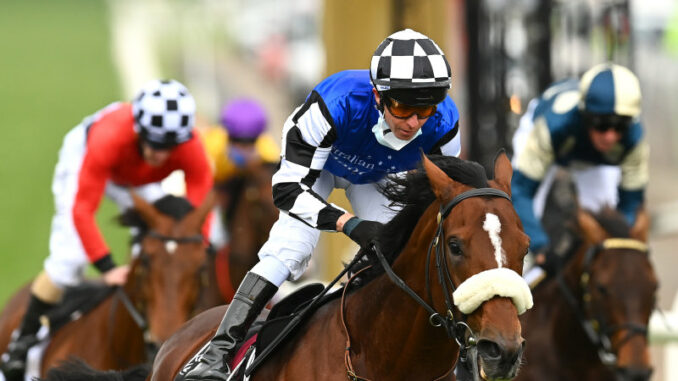 Save articles for later
Add articles to your saved list and come back to them any time.
Three years ago, Ashrun had a hole in his tendon so big, his owners thought there was no hope he would race again.
The stayer had suffered what syndicator Jamie Lovett – a director with Australian Bloodstock, which has syndicated well over 200 horses – described as "one of the worst tendon injuries I've seen".
Ashrun takes a dip before the Melbourne Cup.Credit: Joe Armao
"The hole was that big, that's why I thought we were no hope of getting him back," Lovett said.
"When you do them and an owner asks how long, I always say you're not half pregnant, you either do a tendon or not, and it takes at least 12 months. You never get them back any earlier. It doesn't matter how minimal.
"When you blow a hole like Ashrun did I never thought for one minute he was coming back as a racehorse."
But on Tuesday, the eight-year-old will run in the Melbourne Cup.
It has been a long journey back for Ashrun. His owners sent him to thoroughbred rehab guru Lee Evison, a former trots trainer who now makes a living mending damaged ligaments and tendons in horses. He was the man responsible for repairing 2019 Melbourne Cup winner Vow And Declare, who suffered a career-threatening injury in 2021.
Lovett figures he and Ashrun's owners spent close to $250,000 rehabilitating their galloper, not with the view of racing again but so he could recover sufficiently to become an event horse in his retirement.
"We were just trying to get him back, spend some money to rehome him," Lovett said.
"You get a training bill every month. If a trainer is charging us eight, nine [thousand] a month, over a year, it wouldn't be outrageous to say it'd be $250,000 over the three years to get him back."
On a scale of one to 10, with 10 being the worst, Evison rated Ashrun's tendon injury a "solid eight".
"We have had [horses] that are worse, but those we only rehab to be rehomed, not to race," Evison said. "It was very severe."
Unlike broken legs, tendon injuries are not life-threatening for a horse, but realigning the fibres is a long and arduous process, requiring hundreds of kilometres of slow trotting over several months.
Evison uses a jogger, a specialised trailer towed behind a vehicle, to exercise four-legged patients around his 1000-metre sand track at his Oakland Lodge property in Longwarry in Gippsland.
The soft impact of the sand helps strengthen the tendon to the point where it can withstand the stresses of racing, while the long, slow work maintains a fitness base so they do not need too much work to be ready to race again. Evison had Ashrun for about nine months, clocking close to 1000 kilometres.
The European import had other problems, developing an abscess that "blew a part of his heel off", Evison said.
As Ashrun was being rehabilitated, the sport came under increased scrutiny after a spate of horse deaths in the Melbourne Cup.
"He's a really good story for the once-a-year antis," Lovett said. "If they only knew how much people do care, how invested they are and how much money they put into their horses."
It was not until autumn this year when Lovett sensed there was a chance Ashrun could race again. Initially, he thought Ashrun had a future over the jumps on the remote chance they got him sound again, but the bar was raised after a trial in September.
Though he ran last of seven, he was beaten just on seven lengths by subsequent Caulfield Cup winner Without A Fight over 1190 metres.
"He was entitled to get beaten 20 [lengths]," Lovett said.
In his three runs back after 1048 days out, Ashrun has steadily improved as he was stepped up in distance, his best effort coming last start when he ran second in the Geelong Cup.
The bookies have Ashrun as a $41 chance but, based on his 10th in 2020 behind Twilight Payment, Lovett is confident he will be competitive. Three years ago, he had too much ground to make up but clocked the second-fastest final 600 metres of the race. The quickest home? Champion mare Verry Elleegant, who won the Cup the following year.
"He'll run two miles, he's down on the limit with a world-class rider [Kerrin McEvoy] who has won the race three times," Lovett said. "He needs to be in the firing line. He's not a turn of foot horse, a bit of a grinder. I think he's an absolute top-six chance in a year that is pretty even."
News, results and expert analysis from the weekend of sport sent every Monday. Sign up for our Sport newsletter.
Most Viewed in Sport
From our partners
Source: Read Full Article