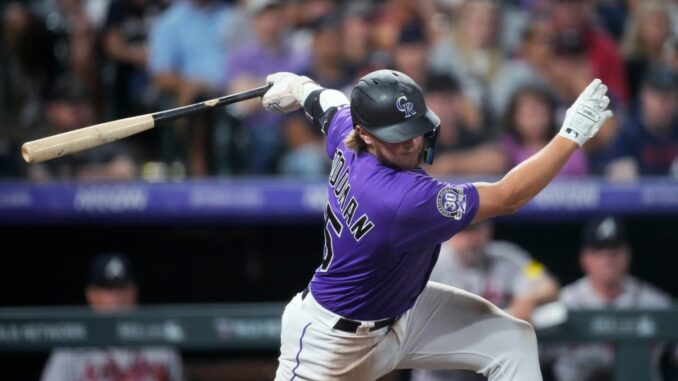 The Rockies' deficiencies in 2023 have been drawing plenty of parallels to the club's expansion team in 1993, and on Tuesday night, the Braves highlighted another bit of similarly ugly molding.
That 1993 club that lost 95 games and was still very much looking for an identity like the '23 team is now went 0-13 against the Braves, getting outscored 106-50.
Fast forward three decades, and it's a good thing the Braves were only in the NL West for that '93 season. First-place Atlanta, a favorite to win its second World Series title in three years, improved to 6-0 against the Rockies this year with a 3-1 win at Coors Field.
"They've got a really good lineup, and we've got to just keep competing and try to stay in these ballgames with them (like we did tonight)," said rookie outfielder Brenton Doyle, who has never beaten the Braves. "Maybe we'll come out on top one of these times."
Colorado has only one chance left to do that this summer, in Wednesday's series finale against Atlanta.
The last-place Rockies, outscored 57-17 in the six defeats to the Braves this season, are now 1-12 in their last 13 games against Atlanta dating back to last season. Colorado is on pace to finish 60-102, the worst mark in franchise history.
"It's tough (against the Braves)," said right-hander Peter Lambert, who pitched well but not well enough to beat the current class of the National League. "They've won 86 games for a reason. They do a lot of little things really well."
Atlanta rapped out 15 hits in winning Game 2 of the series, stranding a dozen runners that ended up not mattering because the Colorado offense couldn't solve Charlie Morton's curveball or the Braves bullpen. That was despite the home pitching keeping it close after getting blown up in the 14-4 loss in Monday's series opener.
Colorado mustered only three hits Tuesday, with 12 strikeouts.
"Morton's a veteran guy who was locating his pitches well (and) were hitting it in the wrong spots," Doyle said.
After a quiet first, Marcell Ozuna made it 1-0 Braves with his 395-foot homer to right to lead off the second. Eddie Rosario followed that with a triple, then Sean Murphy singled him home as Peter Lambert's stuff was playing up.
But Colorado got a run back in the bottom of the inning off Morton, making use of Hunter Goodman's first major-league triple. Harold Castro brought Goodman home with an RBI groundout, cutting the score to 2-1.
Atlanta retook the lead in the fifth, with Austin Riley's leadoff double followed by Ozuna's RBI single. Lambert averted further damage in the frame and left with a 3-1 deficit, hoping his teammates could solve Morton and the Braves bullpen.
Doyle, a human highlight machine in center field, gave the home crowd another silver lining in the loss. He hosed Orlando Arcia at the plate in the sixth inning with a 100.4-mph throw to keep the Braves off the board in the frame.
Doyle now holds two of top three fastest outfield assists in the majors this year, and his throw Tuesday was the fastest-tracked assist in Rockies history. Doyle's 11 defensive runs saved entering the game were the most of all NL center fielders.
"There's a lot of stats to back it up, but to the baseball eye, he's clearly a (premium defender)," manager Bud Black said. "Defensively, he's everything our player development group hoped he would be in the big leagues and he's making his mark as a major-league defender."
Meanwhile, Morton cruised through the fifth and sixth, giving way to setup man Pierce Johnson in the seventh. The familiar face — Johnson pitched at Faith Christian and then with Colorado this year before being traded last month — set the Rockies down in order. A.J. Minter did the same in the eighth before Raisel Iglesias earned his 26th save in the ninth.
"We just couldn't solve their pitching," Black said.
Atlanta's win marked the latest chapter in the Braves' historical domination in the series. Though Colorado had Atlanta's number from 2015 to '21, going 28-12 against the Braves during that span, the advantage has typically been with the NL East power. Atlanta's 138-93 all-time against Colorado, and with Tuesday's win pulled to an even 52-52 at Coors Field.
Wednesday's pitching matchup
Braves TBA at Rockies LHP Kyle Freeland (5-13, 5.00)
6:40 p.m. Wednesday, Coors Field
TV: AT&T SportsNet
Radio: 850 AM/94.1 FM
While the Braves have yet to announce their starter for the series finale, Freeland has consistently kept Colorado in ballgames in the second half of the season. You'd have to go back to June 28, when he gave up six runs over five innings to the Dodgers, to find a truly poor outing where the southpaw hasn't given Colorado a chance to win. In Freeland's last outing, he allowed three runs over six innings in Baltimore. The Braves have had Freeland's number lately, plating seven runs in two of Freeland's last three starts against them.
Pitching probables
Thursday: Off day
Friday: Blue Jays LHP Hyun Jin Ryu (3-1, 2.25) at Rockies RHP Chris Flexen (1-2, 5.87), 6:40 p.m., ATTRM
Saturday: Blue Jays LHP Yusei Kikuchi (9-4, 3.63) at Rockies LHP Ty Blach (1-1, 3.94), 6:10 p.m., ATTRM
Want more Rockies news? Sign up for the Rockies Insider to get all our MLB analysis.
Source: Read Full Article