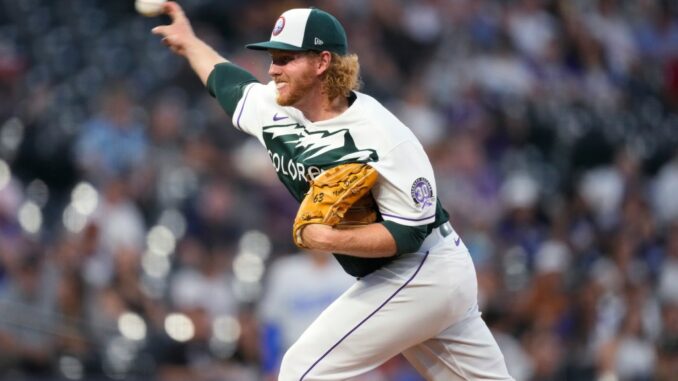 As September winds down, it's tryout time for a number of Rockies who want to give their bosses something positive to mull over during the offseason.
Wednesday night was rookie starter Noah Davis' turn to impress. His performance at Coors Field drew mixed reviews.
The Rockies' overall performance was mostly bad. The Dodgers, reveling in a three-run, eighth-inning homer by Freddie Freeman, pounded the Rockies, 8-2.
Colorado, limping toward the finish line, lost for the ninth time in its last 10 games. Following a trend that has plagued them most of the season, the Rockies struck out 13 times and didn't draw a single walk.
As for Davis, the first four innings of his audition went well. The fifth, not so much.
"Even in that fourth inning, I started not making the good pitches I had thrown earlier," Davis said. "I kind of got away with it. But them they capitalized on some of my mistakes in the fifth."
Davis retired the first six Dodgers he faced and struck out three. He gave up a leadoff homer to James Outman in the third but then kept the Dodgers in check until the three-run fifth when the Dodgers solved him.
Outman led off with a bunt single that caught the Rockies off guard, then came a scorching RBI double to left by David Peralta. In quick succession came a single by Miguel Rojas, an RBI single by Mookie Betts, a walk by Freeman and a sacrifice fly by Will Smith.
"Noah just needs to throw more pitches in the strike zone, trust his stuff and pitch aggressively," manager Bud Black said. "He's got to be a little bit more consistent in the strike zone. That way, he won't get into deep counts."
Over 4 1/3 innings, Davis was charged with four runs on seven hits, with two walks and four strikeouts. After eight games (six starts) at the big-league level, he has an 8.70 ERA.
Dodgers rookie right-hander Emmet Sheehan baffled the Rockies with an effective changeup and struck out 10 over his six innings. He gave up just five hits and didn't walk any, but Colorado did hit two homers off him.
Sean Bouchard, who started in right field, led off the third with a 437-foot homer to left, for his first homer of the season.
Brendan Rodgers whistled a two-out, solo homer over the right-field fence in the sixth for his third homer. All three home of his homers have come in his last seven games. Rodgers also drove a double to right in the ninth.
"Brendan is coming on," Black said. "What you saw tonight — the swings, the opposite-field homer, the double in the ninth — that's what Brendan can do. For him, going into the offseason, that's a big boost of confidence."
Season-ending injuries. The end of the season came a bit early for right-handers Ryan Feltner and Daniel Bard. Both pitchers were placed on the 15-day injured list Wednesday, Feltner with right elbow inflammation and Bard with a right flexor strain.
There was relatively good news for both pitchers as Black said they should be fine after getting some rest in the offseason.
Feltner's MRI came back clean, Black said, meaning that Feltner shouldn't have any issues going forward. The right-hander missed most of the season when he suffered a fractured skull and a concussion when he was hit in the head by a line drive on May 13.
Feltner finished the season 5-2 with a 5.82 ERA over 10 starts. He had an encouraging outing at San Diego on Sept. 19, pitching five scoreless innings, allowing two hits, walking two and fanning five. His fastball reached 97 mph vs. the Padres.
Bard, last year's closer, finished his disjointed season with a 4.56 ERA in 50 appearances (49 1/3 innings). Bard began the season on the IL as he battled anxiety issues, and although he came back, he struggled with bouts of wildness all season. Bard had 49 walks vs. 47 strikeouts and also hit eight batters.
Thursday's pitching matchup
Dodgers LHP Ryan Yarbrough (8-6, 3.78 ERA) at Rockies RHP Chris Flexen (1-4, 6.46)
6:40 p.m. Wednesday, Coors Field
TV: AT&T SportsNet
Radio: 850 AM/94.1 FM
Flexen gets a chance to make a strong impression in his final start of the season. The right-hander did not factor into the decision last Saturday in Colorado's loss at Chicago but he pitched a solid five innings, allowing two runs on five hits and two walks vs. the Cubs. After surrendering a run-scoring double to Ian Happ in the first frame, Flexen settled in and held the Cubs scoreless until a fifth-inning sacrifice fly. In five September starts, Flexen is 0-2 with a 7.23 ERA. Yarbrough has been used mostly in relief since the Dodgers acquired him from Kansas City at the trade deadline. In his last outing against the Giants, he pitched 3 2/3 innings of relief, giving up five hits, two runs and one walk while striking out five. Since the trade, he's 4-1 with two saves in 10 appearances (one start) and owns a 3.12 ERA.
Pitching probables
Friday: Twins RHP Joe Ryan (11-10, 4.31) at Rockies LHP Ty Blach (3-3, 6.46), 6:10 p.m., ATTRM
Saturday: Twins TBA at Rockies TBA, 6:10 p.m., ATTRM
Sunday: Twins TBA at Rockies TBA, 1:10 p.m., ATTRM
End of regular season
Want more Rockies news? Sign up for the Rockies Insider to get all our MLB analysis.
Share this:
Click to share on Facebook (Opens in new window)
Click to share on Reddit (Opens in new window)
Click to share on Twitter (Opens in new window)
Policies
Report an Error
Contact Us
Submit a News Tip
Most Popular
Keeler: Sean Payton, tanks for nothing! Unless Broncos' plan is landing USC QB Caleb Williams, why is Vance Joseph still here?

Keeler: Sean Payton, tanks for nothing! Unless Broncos' plan is landing USC QB Caleb Williams, why is Vance Joseph still here?

Suzanne Morphew's remains found in Saguache County

Suzanne Morphew's remains found in Saguache County

Keeler: Where's Cormani McClain? Stuck in Deion Sanders' doghouse. There's only one way out. "It's time to grow up."

Keeler: Where's Cormani McClain? Stuck in Deion Sanders' doghouse. There's only one way out. "It's time to grow up."

Lauren Boebert escorted out of "Beetlejuice" musical in Denver after "causing a disturbance"

Lauren Boebert escorted out of "Beetlejuice" musical in Denver after "causing a disturbance"

One person hit, killed on I-25 near Castle Rock

One person hit, killed on I-25 near Castle Rock

Kiszla: 70 points will leave scar on Broncos that can only be erased by cleaning house

Kiszla: 70 points will leave scar on Broncos that can only be erased by cleaning house

Six buddies open gay bar in former Prohibition Bar space on East Colfax

Six buddies open gay bar in former Prohibition Bar space on East Colfax

Broncos four downs: Worst coaching job in NFL history? Sean Payton, that now belongs to you.

Broncos four downs: Worst coaching job in NFL history? Sean Payton, that now belongs to you.

Opinion: Republicans should be laughing at Boebert too — that they're not is a sign of the times

Opinion: Republicans should be laughing at Boebert too — that they're not is a sign of the times

Here's how the Floyd Hill project on I-70 will affect ski traffic this winter

Here's how the Floyd Hill project on I-70 will affect ski traffic this winter
Trending Nationally
Baltimore entrepreneur community mourns Pava LaPere: 'She was our de facto leader'
Target says organized retail theft too much, will shutter stores in Oakland, San Francisco, Pittsburg
Pot boom wakes sleepy Dinosaur, Colorado: "There's money running out of our ears"
Condo Wars: Boards can use defamation laws to stifle dissent | Investigation
New law says California schools must provide gender-neutral bathrooms
Source: Read Full Article