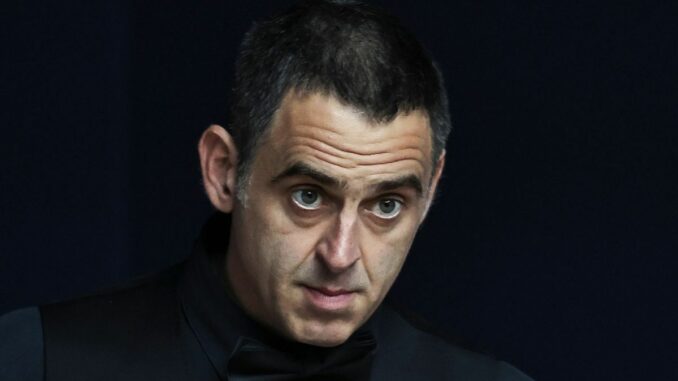 Football Digest: Newcastle primed for Champions League return
Ronnie O'Sullivan has revealed that his 'pretty useless' form over the last 18 months has been affecting his confidence when it comes to playing in big tournaments. The Rocket came from behind against familiar foe John Higgins to reach the semi-finals of the Shanghai Masters on Thursday but was left frustrated by his own performance.
The event marks O'Sullivan's first tournament since he was beaten in the World Championship quarter-finals by Luca Brecel, who went on to claim the top prize at the Crucible earlier this year. O'Sullivan managed to win the Champion of Champions and Hong Kong Masters in 2022 but is adamant that he has been nowhere near his best for quite some time.
The 47-year-old opened up on his recent struggles after beating Higgins in Shanghai, saying: "It's been a long while since I've gone this long not really playing any good snooker. It's been pretty useless, to be honest with you.
"I'd rather feel good and lose than feel bad and win, I've always said that. It's a hard game anyway, well it's not a hard game when you're feeling good, it's the easiest game in the world, but when you're not feeling good and play really bad for 18 months, it's hard to even want to get your cue out of the case.
JUST IN: Snooker star Brecel left red-faced after incredible foul shot missing 10 reds
"I get scared of even looking at a snooker table. I think 'cor, this is going to be awful'. I've just got to fight and see where it takes me."
Reflecting on his comeback victory over Higgins, O'Sullivan added: "He should have put me away really, he had enough chances. 5-2 up and in control of the game. Uncharacteristically for John he didn't finish it off and from there he looked a little bit disappointed with himself.
We use your sign-up to provide content in ways you've consented to and to improve our understanding of you. This may include adverts from us and 3rd parties based on our understanding. You can unsubscribe at any time. More info
Don't miss…
Snooker star pulls off incredible shot in 'escape of the season' at English Open[NEWS]
Ronnie O'Sullivan concerns raised by Stephen Hendry as he rejects £2m suggestion[GOSSIP]
Snooker star left with egg on his face after forgetting rules and admitting loss[LATEST]
"I didn't expect to do anything because I was really awful, I've been awful for about 18 months now. It's been a long time to not really find any form, so you start to go through the motions which is not nice really.
"I've had to do it before so you get used to it, but it would be nice to come out of that slump and try and play some decent matches."
O'Sullivan will go up against Mark Selby in the semi-finals at the Shanghai Masters, a tournament he has won on four previous occasions. If he gets past Selby, he will face either Brecel or Neil Robertson in the final on Sunday.
Follow our Express Sport page on Instagram here.
Source: Read Full Article