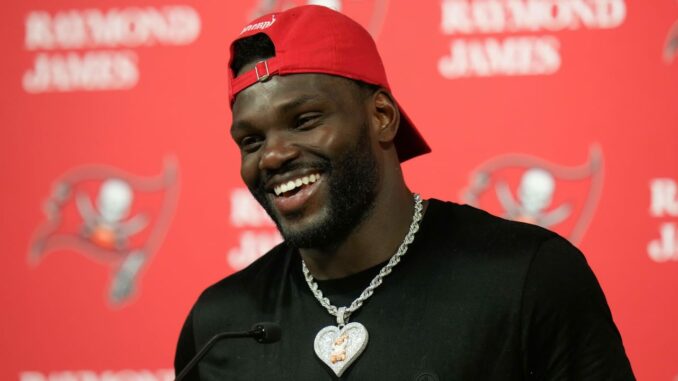 Tampa Bay Buccaneers pass rusher Shaquil Barrett sealed Sunday's 27-17 win over the Chicago Bears with a 4-yard pick-six on a screen pass.
The phenomenal read from Barrett iced the victory, putting the Bucs at 2-0 to open the season. But Barrett's mind, in that moment, was elsewhere.
Barrett's 2-year-old daughter Arrayah drowned in a pool in April, a heartbreaking loss that will stick with the family forever. After the score, Barrett blew a kiss to the heavens in her memory.
"I always play for my family already, but then having that extra incentive, it makes me want to go a little harder for her," Barrett told reporters after the game, via the team's official website. "It never stops sucking. It is always going to suck, but to be able to shine a spotlight on her a little bit and when the camera was on me after I made the play, I told her, 'I love you. I miss you. Wish you were here.' I am glad I am able to still get some spotlight for her and to the Lord above because He is the reason we are here right now. I am just trusting His plan."
It's been a rough year for Barrett, who tore his Achilles in Week 8 last season. Then the tragedy struck in April.
Barrett has dedicated the 2023 season to Arrayah. It's off to a good start with a sack and a pick-6 on Sunday.
"It's unbelievable. You can't even fathom going through something like that," coach Todd Bowles said of Barrett. "To see him go through it and come out on the other side — and I'm sure he still has days — but to play like he's playing right now, to be where he is right now is unbelievable."
Source: Read Full Article