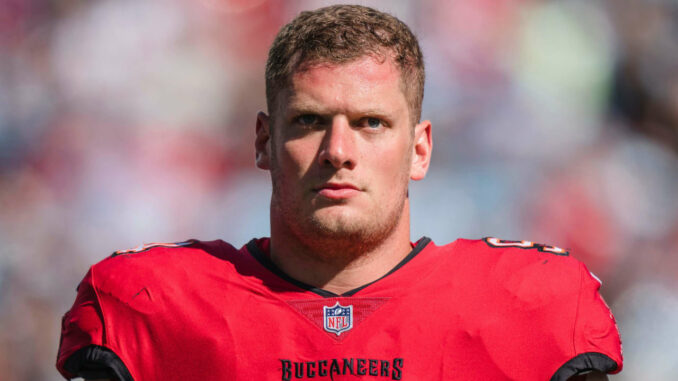 Veteran pass rusher Carl Nassib, who in 2021 became the NFL's first openly gay player to play in a regular-season game, announced his retirement on Wednesday after seven seasons.
"This is a bittersweet moment for me but after seven seasons and just over 100 NFL games I am officially retiring from football to focus on my company Rayze," Nassib wrote on Instagram. "It really feels like just yesterday starting out as a walk-on at Penn State. Football has given me more than I ever could have imagined. I can truly hang up my helmet for the last time knowing I gave it everything I had. Growing up I loved how fun football was. I loved the pursuit of perfection. I loved the small window where every player has to chase their dreams. It makes it all the more exciting if you get there. It was always my dream to play in the NFL, even as a walk-on, and I really feel like the luckiest guy on the planet."
A third-round pick by Cleveland in 2016, Nassib spent two years with the Browns. The edge rusher then played two seasons with the Tampa Bay Buccaneers, during which he generated 12.5 sacks. Nassib signed with the Las Vegas Raiders in 2020, where he played two campaigns, before rejoining the Bucs for 13 games last year.
In 2021, Nassib became the first active NFL player to come out as gay. His story has inspired others.
Related Links
Jaguars assistant strength coach Kevin Maxen comes out as gay, a first for major U.S. men's pro sports
2023 fantasy football flex rankings: Top 150 RB/WR/TE options in Week 1
NFL Power Rankings, Week 1: Steelers rising heading into 2023 season; Jets, Patriots fall before kickoff
"Big moments like this are a time for gratitude," Nassib wrote. "I want to thank God, my family and my friends for always being there for me even when I didn't realize it. I want to thank my agent Brian Ayrault. Staying with you to WME was one of the best decisions I have ever made. Brian was the first person in the football industry I came out to and he didn't blink. He encouraged and motivated me to follow through with my announcement and to make as big of an impact as I possibly could. I want to also thank Jason Licht and John Spytek. These two reignited my career not once… but twice. I was fired twice and they picked me up both times. I played my best football in Tampa and it never would have happened if it wasn't for those two legends.
"Thank you to all my coaches, teammates, trainers and staff throughout the years. Shout out to Bobby Slater, Tim Bream, Joe Sheehan and Chris Cortez for keeping me healthy. Lastly I want to thank Todd Bowles, James Franklin, Larry Foote, Coach Buck, Clyde Simmons, Larry Johnson and Bob Shoop for coaching up a lanky, know-it-all, try hard guy. To anyone who has a dream of being the best, never let anyone convince you it's impossible. Be the best you can be in everything you do. Work hard, make smart decisions and be kind to others. I am so excited for the next chapter of my life and to give Rayze everything I have. I am also looking forward to working alongside the NFL on DEI and exciting philanthropic efforts in the future. Wish me luck! Thank you."
Nassib closes his NFL career with 25.5 sacks, 59 QB hits, 187 tackles, four forced fumbles and an interception.
Source: Read Full Article