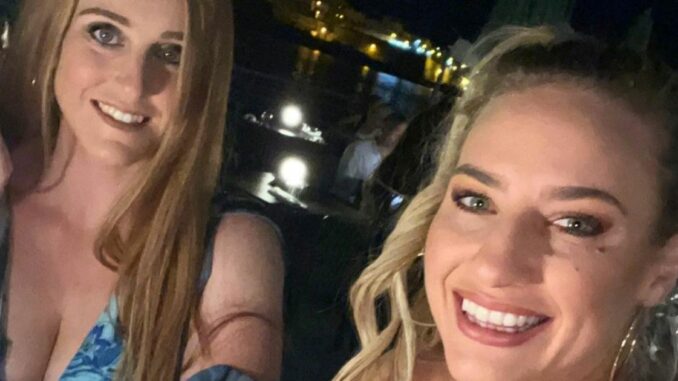 Boxing superstar Ebanie Bridges wowed fans with a busty display on social media after she shared some snaps with her friend Skye Falzon, another Aussie fighter.
The Blonde Bomber was soaking up some late summer sun in Malta when she decided to share some playful snaps, and she captioned the post: "Malta with my bestie @skyefalzon!"
And fans were quick to flood Bridges with compliments in the comments section, as she wowed in a plunging white top. "Lovely pair," one cheeky fan joked.
"Amazingly beautiful women," a second added. While a third responded: "Beautiful view… Malta not looking bad either!"
READ MORE: Gorgeous Ebanie Bridges wows in skimpy white top as boxing champ goes on holiday
The IBF women's bantamweight champion is currently letting off steam on the small Mediterranean island, giving locals a eyeful with some skimpy looks.
The Blonde Bomber doesn't have a fight scheduled as of yet and seemingly decided to kick back with a visit to Malta alongside friends. While Skye was coming off the back of a win against Thai boxer Thanchanok Phanan.
What do you think of Ebanie Bridges' latest snaps on social media? Let us know in the comments section
Bridges spent some time of the shelf after her bout with Shannon O'Connell – and Bridges revealed OnlyFans has been a large source of her income in recent months.
She said: "I'm in the top 0.1 per cent of earners on OnlyFans. I haven't had a paycheck from boxing since December f***ing 2022, so I suppose, thank f*** for OnlyFans.
"Otherwise I'd be working at f***ing McDonald's or something in order to support myself over here. So thank God for OnlyFans, because it keeps me going, and it keeps me being able to train at the gym full time and saves me from not having to go get a second job.
"Because I'm not getting paid, because I'm not boxing, it just helps me with my life, It helps me set up my future. God willing I have children, it helps set up their future."
Source: Read Full Article