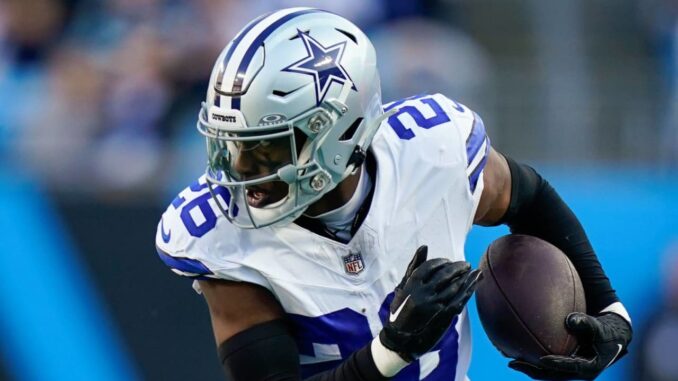 NFL quarterbacks might want to stop testing DaRon Bland.
The Dallas Cowboys cornerback jumped in front of a Bryce Young pass in Sunday's 33-10 win in Carolina, snagged the pigskin, hopped back to his feet, and raced to the end zone for his fourth pick-six of the season.
Related Links
2023 NFL season, Week 11: What We Learned from Sunday's games
NFL stats and records, Week 11: Bills' Josh Allen sets TD mark through six seasons; 49ers' Brock Purdy has perfect day
Jimmy Johnson to be inducted into Cowboys Ring of Honor on Dec. 30
The play tied Bland for the most interceptions returned for a touchdown in a single season in NFL history. He joins Eagles' Eric Allen (1993), Chiefs' Jim Kearney (1972), and Oilers' Ken Houston (1971) with four.
Now, Bland's goal is to set a new record.
"It just makes another goal to break it," Bland said, via the team's official website. "I think it was when I touched the end zone, it was like, 'Wow, I just did it. I tied the record.' I'm level-headed now and I want to go break it…
"It wasn't really about the record. It's really about being in the history books, being remembered."
Bland's recovery speed and ball skills created the perfect storm of opportunity. Yet again on Sunday, a quarterback thought he had an opening to slip a pass past the Cowboys' corner, only to see Bland slide in for the pick.
"It goes back to high school and playing receiver, always having the ball in my hands," he said. "That's a play I can make any other day."
Following Trevon Diggs' injury, the question was who in the Cowboys' secondary would step up. Bland has been that man, and it's more than just the pick-sixes. His six total INTs are tied for most in the NFL, and his 12 passes defensed are tied for fifth-most entering Monday night.
Source: Read Full Article