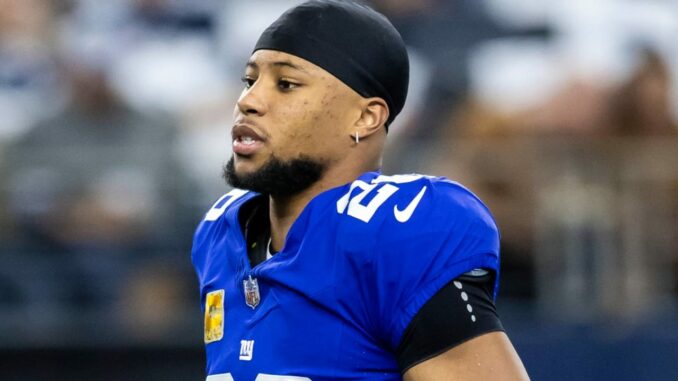 Saquon Barkley's offseason contract negotiations, which ultimately led to a slight increase on the franchise tag but no long-term deal, helped jumpstart cross-country conversations about the value of a running back.
As we dig deeper into the 2023 campaign, those discussions could become heightened. Barkley missed three games this season due to injury and has carried the workload for a 2-8 Giants squad treading water.
Related Links
Week 11 NFL picks: Steelers or Browns in AFC North bout? Who wins Eagles-Chiefs Super Bowl rematch?
Giants GM Joe Schoen has attended college games featuring top QBs this fall
Giants QB Daniel Jones suffered torn ACL in loss to Raiders, will miss remainder of 2023 season
The star RB is in a precarious spot. The Giants need him to have any semblance of an offensive threat with undrafted rookie quarterback Tommy DeVito under center. Yet every tote he takes will be used against him in offseason contract negotiations.
For Barkley, it's better not to think about the conundrum on a daily basis.
"Yeah, it's really crazy when you break it down like that. It's just the way the business is," Barkley said, via ESPN. "When you're a premier back in this league — not to talk about myself — they feed you the ball because it helps you and gives you an opportunity to win games more times than not. And then when it comes to contract or a certain time and you're a running back, you having so much miles on you, it's a crazy concept.
"I try my best not to think about that or I would go insane. I just try to keep focus on the love of the game, take care of my body and whenever the opportunity comes to talk contract again — whether it's with the Giants or another team — hopefully I'm able to pull the film or pull up numbers to be able to get a contract that is the best for me and my family."
Barkley brushed off questions about whether there would come a point when he should consider his own future and not play through injury as he deals with an ankle issue. Despite being limited in practice, he is expected to play this week against the Washington Commanders.
However, Barkley didn't mince words when asked what he learned about last season's negotiations and the club's use of the franchise tag.
"Loyalty means nothing," he said. "Loyalty, that don't mean nothing. No matter how loyal, no matter how committed you are, it's a business at the end of the day. That is something that I have learned."
The business of football will continue this offseason when the Giants can once again use the franchise tag on Barkley, a move that could lead to more drama in New York in 2024.
Source: Read Full Article