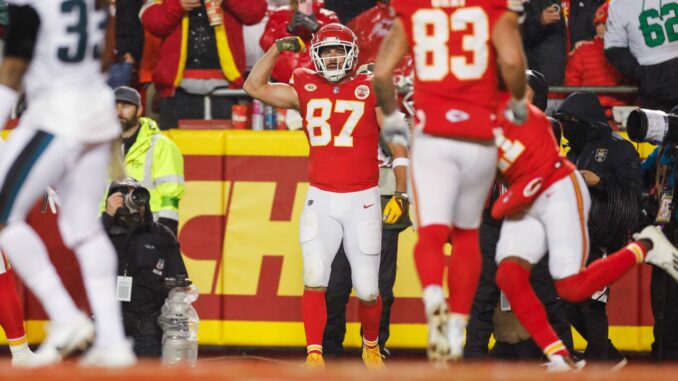 From winning a second Super Bowl to Saturday Night Live to Taylor Swift mania, it keeps coming up Travis Kelce in 2023.
Kelce added some history to his calendar on Monday when the Kansas City Chiefs tight end caught his 74th career touchdown. Kelce's 4-yard TD catch in the second quarter of the Chiefs' Week 11 game against the Philadelphia Eagles tied him with Jason Witten for fifth all time among tight ends.
Kelce can take the No. 5 spot all to himself with his next TD reception. He's No. 2 among active tight ends behind the New Orleans Saints' Jimmy Graham (fourth all time with 86 TDs). Los Angeles Chargers great Antonio Gates is the standard bearer with 116 career TDs, ahead of Hall of Famer Tony Gonzalez (111) and Rob Gronkowski (92).
The TD catch was Kelce's fifth of the season and the 51st of his career from Patrick Mahomes, as the QB-TE combo continues its ascent as one of the finest tandems in league lore. With their latest six-point connection, Mahomes and Kelce tied Drew Brees and Graham for the third-most in NFL history (Tom Brady and Gronkowski are No. 1 with 90 TDs) for a QB-TE tandem.
An eight-time Pro Bowler and four-time All-Pro, Kelce continues to pad his Hall of Fame resume and make his case as perhaps the greatest tight end of all time. The 34-year-old is already in the top four in career receptions and receiving yards for a tight end, holds the record for most 100-yard receiving games for a TE and is on his way to an eighth 1,000-yard season. No other tight end has more than four.
Monday marked another milestone for Kelce amid a year for the ages.
Source: Read Full Article