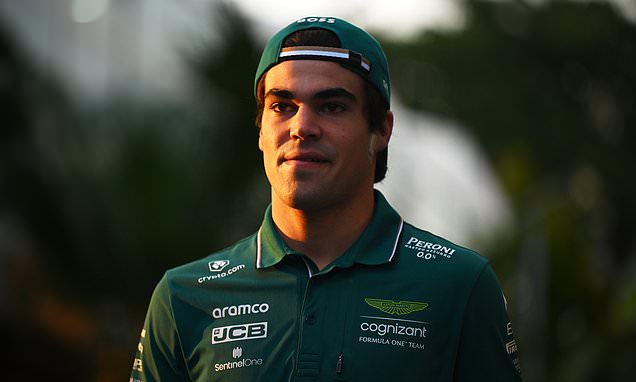 Aston Martin confirm Lance Stroll will not race in Sunday's Singapore Grand Prix after driver suffered massive 110mph crash during qualifying
Lance Stroll suffered a major crash during qualifying for the Singapore GP 
He lost control at the final corner and had a violent impact with the barrier 
The 24-year-old Canadian reported over the team radio that he was 'OK'
Aston Martin have announced that Lance Stroll will take no part in Sunday's Singapore Grand Prix, following his huge crash in qualifying.
Stroll walked away after a massive 110mph shunt in qualifying on Saturday, the Canadian whacking in to the barrier with his front left wheel being torn off.
Stroll, 24, declared himself 'OK' in response to his race engineer Ben Michell's inquiry but he sat in his cockpit facing the wrong way for a while until the medical car came out to rescue him.
He had been cleared for Sunday's race but the decision has been made to sit him out. 
Hours before the Grand Prix was set to kick off, Aston Martin released a statement saying: 'Following Lance's crash in qualifying during the Singapore Grand Prix, Lance and Aston Martin have jointly agreed that he will not participate in the Singapore Grand Prix this evening.
Aston Martin have announced that Lance Stroll will take no part in Sunday's Grand Prix
'The team face a huge job repairing the car today and understandably Lance is still sore following such a high impact. Lance's focus now shifts to fully recovering ahead of the Japanese Grand Prix.'
Team Principal Mike Krack said: 'The whole team are relieved that Lance was able to step out of the car after yesterday's accident – however, he is still feeling the after-effects of such a high-impact crash.
'Our priority now is that he makes a full and speedy recovery. Together, we have decided that he will sit out this evening's race and instead focus fully on returning to the cockpit for next weekend's Japanese Grand Prix.'
Sky F1 commentator Martin Brundle said after the crash: 'He had to steer into the slide and the front axel bit and turned him right, almost a head on there and the barriers did a really great job of absorbing the energy and has the front of his car.
'The cockpit is in tact around his legs. You always worry whether suspension parts would come into the cockpit and break his legs but he seems okay.
'It's the kerb that's done it, he took his hands off his wheel luckily.'
Stroll suffered a massive crash during qualifying for the Singapore Grand Prix
His car was briefly thrown off the ground as it span around and ended up back in the track
Stroll lost control at the final corner and had a violent impact into the barrier but was fortunately able to get out of his car and report to his Aston Martin team that he was okay
Source: Read Full Article