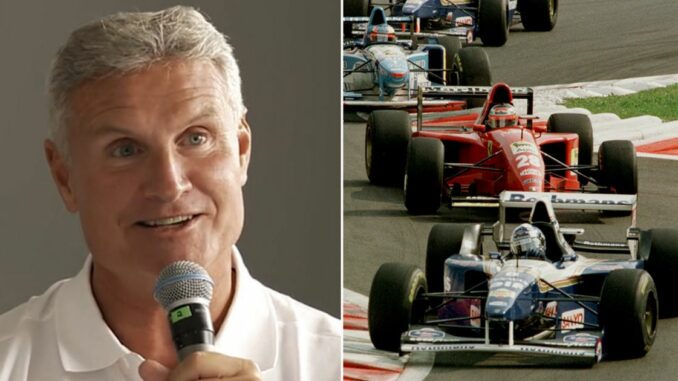 An F1 hero has recalled boozing minutes before a qualifying session – and then taking pole position.
David Coulthard enjoyed a long and eventful F1 career between 1994 and 2008, driving for Williams, McLaren and Red Bull. The 13-time grand prix winner was renowned as something of a party animal between races while being ultra-professional at the track.
However, on one occasion he found himself being coerced into drinking alcohol shortly before a qualifying session at the fastest track in F1, Monza, where speeds regularly reach more than 200mph. The session in question was at the 1995 Italian Grand Prix, Coulthard's first full season in F1. Coulthard recalled the tale during the Formula For Success podcast which he fronts with former Jordan team owner Eddie Jordan.
READ MORE: F1 rule change could leave Lewis Hamilton and other stars facing seven-figure fines
READ MORE: Michael Schumacher 'got drunk and ripped shirts off at wild post-F1 race parties'
Speaking to special guest Gerhard Berger, who raced in F1 in the 1980s and 90s, the Scot recalled: "You pulled me in and persuaded me that it was tradition in Monza before qualifying to have a schnapps. I was a young, impressionable driver and you were a grand prix winner. You've got Niki [Lauda, three-time world champion] there…
"Of course, you guys had set this up and I didn't want to say no so they bring out three little glasses that looked like schnapps. For sure they were drinking water.
What's your favourite David Coulthard memory? Tell us in the comments section below
"They gave me a schnapps. This is about half an hour before qualifying. I take the schnapps, I go out, I'm in pole position. I got pole!"
Berger, who drove for the likes of Ferrari, McLaren and Benetton, winning 10 grand prix, brazenly admitted to drinking alcohol before qualifying sessions. He said: "David, I always drunk before qualifying, amaretto and then an espresso."
While Coulthard took pole, the race was an utter disaster as he spun off on the warm-up lap. He was able to restart, only to crash out of the lead, with fellow Brit Johnny Herbert taking victory.
Source: Read Full Article