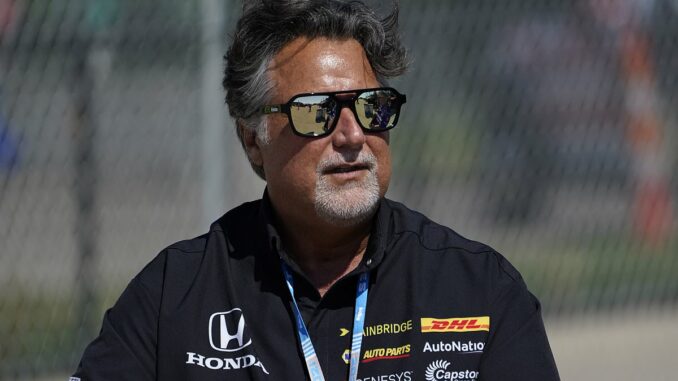 Michael Andretti brands opposition to his would-be F1 team a 'mystery' and believes his proposal has lots to 'offer to Formula 1 fans'
Andretti aim to be on the grid by 2025 and have FIA approval to join the sport
However, barriers remain in their path and current F1 teams oppose the proposal
Michael Andretti believes his team would 'bring in more than we're taking away'
Michael Andretti has called objections to his proposed 11th F1 team a 'mystery' amid his push to fully secure approval.
American outfit Andretti were given approval to join by the FIA earlier this month but that is far from the end of the story. 
They must still seal an agreement with FOM, the body that controls F1's commercial rights and is heavily influenced by the existing ten teams, among whom there is opposition to an additional team.
Any new team would take a slice of the income that the sport generates and that is something that most team principals are not eager to dilute.
Andretti told Sky Sports F1: 'It's a mystery to me in some ways, why they're pushing back.
Michael Andretti said it was a 'mystery' that teams were opposing his proposal for an 11th team
There is opposition to his proposal among F1 teams as they do not want their income diluted
'They say we're slicing the pie, but I think the point is, hopefully we bring in more than we're taking away, and we really believe that.
"If you look at the fan support on all of the surveys that have been done, we think that we're going to add to it, not take away.'
Andretti's aim is to be on the grid by 2025.  
The stipulated joining fee for any new competitor is £165million. 
Current F1 bosses are sensitive about the fact that this fee was set before the sport's commercial boom in recent seasons, with teams valued at between £600million and £1billion. 
Andretti have the backing of General Motors and beat four other prospective teams to the FIA's approval.
'It definitely shows that we have the right to be here on the grid, and we're excited about that,' said Andretti. 
Formula 1's regulations state that the sport can have 26 cars on the grid.
Earlier this season, commentator and former driver Martin Brundle said that having a field of 24 teams – which it had in the not-too-distant past – could add more of a 'show'. 
Source: Read Full Article