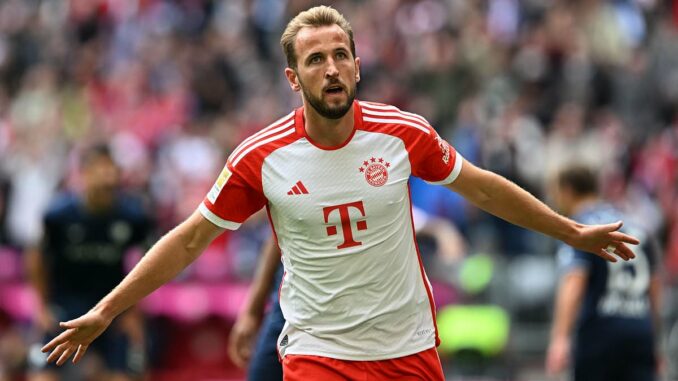 EURO FILES: Harry Kane and Bayern Munich already look like a match made in heaven – and they haven't even hit their stride yet… PLUS Man United target Jean-Clair Todibo is already doing a NICE job for Sir Jim Ratcliffe
Harry Kane has started excellently in Germany and Bayern Munich will improve
Sergio Ramos returns to face Real Madrid – but will he celebrate if he scores?
Listen to the latest episode of Mail Sport's podcast 'It's All Coming Up!'
After eight games played in England and seven in Germany, Tottenham were top of the Premier League and Bayern Munich fourth in the Bundesliga heading into Saturday. 
If things stay this way all season, Harry Kane's transfer will have represented some of the worst career timing since Michael Owen moved to Real Madrid in 2004 and Liverpool won the Champions League in Istanbul the following season.
But things will not stay the same, and Kane's form is a major reason why. He has scored 12 goals in 12 games for club and country, barely breaking stride, since making the move. It's a wonder he seemed to agonise for so long over the decision.
He has transformed the way Bayern play not just because they now have the target man they so lacked last season after Robert Lewandowski left, but because he's better at dropping deep than the Pole was and his ability to do that has brought the best out of players like Leroy Sane and Thomas Muller and given Thomas Tuchel's side greater variety when they try to break down defences.
The Bayern coach is the other reason why Bayern are not panicking about the emergence of serious title rivals, including Xabi Alonso's Bayer Leverkusen, this season.
Harry Kane has transformed the way Bayern Munich play and things will improve for them
Bayern will not panic with Thomas Tuchel at the helm despite being fourth in the Bundesliga
Your browser does not support iframes.
Tuchel is being branded as the new Louis van Gaal and that's a compliment, because it refers to the way the Dutch coach transformed the club in 2009 after Jurgen Klinsmann's relaxed regime had left the team ragged and undisciplined.
Tuchel doesn't leave his players crying as Bayern's sporting director in Van Gaal's spell, Christian Nerlinger, claimed the Dutch coach did in an interview this week. But he has stamped his authority on the club in a way that no one has done since, apart from Pep Guardiola.
He took over from Julian Nagelsmann, who like Klinsmann was young and unproven at the highest level. And it wasn't long before he had also effectively replaced Oliver Kahn and Hasan Salihamidzic because the chief executive and sporting director left in the summer.
Christoph Freund is the club's new sporting director but the sense is that Tuchel is very much in charge across all areas, as all-powerful as any Bayern coach can ever be while Karl-Heinz Rummenigge and Uli Hoeness still loom large as advisory board members.
Tuchel has had to be tough with a group that picked up too many bad habits last season. He lets his assistant Zsolt Low play good cop to his bad cop and Kane has helped there, too — a model pro setting an example.
Tuchel didn't get everything he wanted in the summer but two players ought to arrive in January. Fulham's Joao Palhinha should come to fill a holding midfield vacancy.
And he wants a right-sided defender. He was desperate for Kyle Walker in the summer and Freund's remit is to look for alternatives to the Manchester City captain.
Before that there is a lead to close at the top, starting away at Mainz today. Manuel Neuer is back from a broken leg although Sven Ulreich is likely to stay in goal for the next two games while the old Bayern warhorse continues to train.
New sporting director Christoph Freund represents change but Tuchel is powerful in all areas
Fulham's Joao Palhinha should arrive in January to fill a holding midfield vacancy 
Bayern wanted Kyle Walker in the summer and Freund's job is to find an alternative to him
His re-emergence adds to the feeling that the real Bayern is reemerging just in time for what could be the most competitive season for years.
It's one of football's shortest books: Great Bundesliga title races 2012-2023. Apart from a few outliers when Borussia Dortmund pushed Bayern close, it's been domination to the point of boredom. In 2013, Bayern won the title by a staggering 25 points. Since then, we have seen 19, 10, 10, 15, 21 and 13-point winning margins. And in 2021 and 2022 they won it by a 13 and an eight-point margin.
Last year looked like breaking the cycle but with Jude Bellingham injured and unavailable, Dortmund failed to pick up the win they needed to deny Bayern an 11th straight championship.
This time it will be different. But Bayern are ready and Kane and Tuchel are reasons one and two why that is the case.
United target Todibo doing a Nice job for Ratcliffe already
Jim Ratcliffe-owned Nice will go top of Ligue 1 on Saturday night if they beat Marseille.
The only unbeaten team left in France will have at least 24 hours at the summit ahead of Monaco's home game with Metz tomorrow, if they see off a Marseille side somewhat revived under new coach Gennaro Gattuso.
Their own manager, the talented 34-year-old Francesco Farioli, has impressed and so has his central defensive partnership of 40-year-old former Bayern Munich centre back Dante and the one-time Barcelona youngster, now 23, Jean-Clair Todibo.
Manchester United target Jean-Clair Todibo is performing well for Nice, owned by INESO
Jim Ratcliffe's Nice era has brought a mixed bag of results and he looks set to take part-ownership of Manchester United
The latter will be the next expensive export from the French club. He told L'Equipe last month that he turned down Manchester United this summer. Perhaps he'll change his mind if the next person to ask him to join is prospective United part-owner Ratcliffe.
Fairytale return for Ramos… but will he celebrate? 
It was 18 years ago, and 18 minutes into a game between Sevilla and Real Madrid, when the home side won a free-kick just over 30 yards out.
It looked as if Sevilla's Brazilian midfielder Renato was going to put the ball into the area but instead he rolled it to a floppy-haired teenager by the name of Sergio Ramos and the 19-year-old hit it with such power that it flew past Iker Casillas into the back of the net. Both Ramos' feet were off the ground after he struck the ball, and everyone inside the stadium was out of their seat, apart from Madrid president Florentino Perez, who signed Ramos for €27million three months later.
Ramos takes on Real at the Ramon Sanchez Pizjuan Stadium again on Saturday, back in a Sevilla shirt. His romantic return to the club where he started out has not gone to script so far. The 37-year-old scored at the wrong end in a 1-0 defeat by Barcelona and the manager in charge when he joined, Jose Luis Mendilibar, has already been sacked. It's not going to get easier any time soon with Jude Bellingham flying at him today and Arsenal on the horizon next week.
In the days leading up to the game, the question on everybody's lips has been: Will he celebrate if he scores? It would be foolish not to, surely? Just as long as he runs to new coach Diego Alonso and not to Carlo Ancelotti out of habit.
One player who won't be involved in Sevilla's matches with Madrid this season is Papu Gomez, whose contract the club wrote off in the summer. 
Sergio Ramos takes on Real Madrid once again with Sevilla, who he returned to this summer
He was in Argentina's World Cup winning squad, and his summer exit has now been explained. Sevilla were made aware he had tested positive for banned substances before the tournament in Qatar. It was reported in Spain yesterday by Revelo that the 35-year-old, now at Monza in Serie A, will have to serve a two-year ban. 
Five to watch this weekend
Mainz v Bayern Munich: Bundesliga. 5.30pm, Sky Sports Football
Sevilla v Real Madrid, La Liga. 5.30pm Viaplay Sports 2/La Liga TV
Nice v Marseille: Ligue 1. 8pm, TNT Sports 1
AC Milan v Juventus: Serie A. Sunday, 7.45pm, TNT Sports 1
Barcelona v Athletic Bilbao: La Liga. Sunday, 8pm ITV4
IT'S ALL KICKING OFF! 
It's All Kicking Off is an exciting new podcast from Mail Sport that promises a different take on Premier League football.
It is available on MailOnline, Mail+, YouTube, Apple Music and Spotify.
Your browser does not support iframes.

Source: Read Full Article