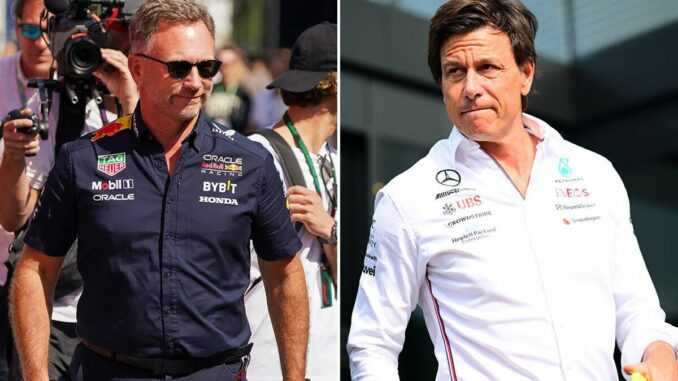 Red Bull and Mercedes have traded places on the track in F1 but now team principal Christian Horner is aiming to upset the Silver Arrows' dominance off it. The reigning constructors champions are plotting to supply engines to up to four teams after it goes independent in 2026, with Red Bull Powertrains in the works since 2021 following Honda's decision to pull out from the sport.
And its production is already yielding positive results, with McLaren CEO Zak Brown being left impressed after visiting Red Bull's HQ. Mercedes currently supply three F1 teams with power units with Aston Martin, McLaren, and Williams all customers – the most in the sport.
However, Red Bull could go one further and supply four teams with its own engines. "We've geared our facility for circa four teams so that's something that we will be capable of doing longer term," Horner told Planet F1.
"But I think our focus is very much on first establishing ourselves and getting a group of people to be integrated with the chassis team, to work as one collective unit. It's an enormous, enormous undertaking but we're on that journey and we're making reasonable progress."
Horner has stressed the importance of gradual progression and that going full throttle from the get-go may work against Red Bull. "I think we want to walk before we can run," Horner added. "We are an independent engine manufacturer. We have a great relationship with Ford, which is working very well, [but] essentially, we're an independent engine manufacturer and that has longer-term strengths and advantages as well.
"If in the future we're attractive to customers that's something we'd certainly be open to, to supply more teams in the future. But I think, as I say, we want to establish ourselves first and earn our stripes."
Don't miss…
Lewis Hamilton speaks out after beating Russell and Norris to award[LATEST]
Hamilton laugh shared at F1 awards night as Horner seated at table[LATEST]
Indy 500 horror crash as car flips upside down[LATEST]
We use your sign-up to provide content in ways you've consented to and to improve our understanding of you. This may include adverts from us and 3rd parties based on our understanding. You can unsubscribe at any time. More info
Red Bull are on course to go the 2023 season unbeaten. The team has won 14 out of 14 so far, with three-peat-chasing F1 world champion Max Verstappen winning 12 and the last ten in a row – beating Sebastian Vettel's consecutive wins record of nine. "I think they need to screw it up themselves in order not to win every race this season," Mercedes chief Toto Wolff told media.
Mercedes have just one win since Saudi Arabia 2021, which saw Lewis Hamilton clinch first to take the title race into Abu Dhabi. The Silver Arrows last topped the podium in Brazil last season, with George Russell taking home his first P1 in F1. 
Source: Read Full Article