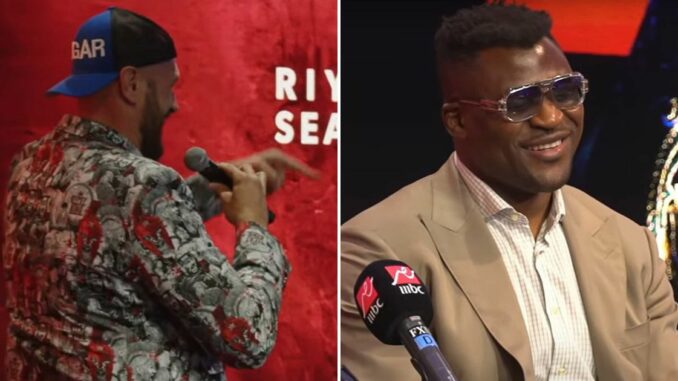 Bookmark
Offbeat news from the world of sport
Thank you for subscribing!
Offbeat news from the world of sport
We have more newsletters
Tyson Fury praised Francis Ngannou for his "big penis" and told him to "get it out" during their first fight press conference.
The Gypsy King and former UFC star Ngannou met on stage in London on Thursday (September 7) evening to start building hype for their crossover bout, which will be held in the Saudi Arabian capital of Riyadh on October 28.
Fury was given free reign on the microphone, which organisers may well have regretted after he turned the topic of conversation to Ngannou's manhood – again.
"I get to knock out him. He's a good looking lad, I do like him, he's probably got a big corey (Romany word for penis) as well, remember that Francis?"
READ MORE: Tyson Fury wants Francis Ngannou MMA fight and will 'elbow him in the teeth'
Ngannou shook his head before replying: "If you know where I come from, you don't have to ask that question." Fury then encouraged: "Come on, come on, get it out, get it out."
He was calling back to their previous exchange in the ring at Wembley after he'd defeated Dillian Whyte back in April 2022, when he first made reference to Ngannou's penis.
Is Fury overstepping the line with his comments? Let us know in the comments section.
More to follow. Please refresh the page regularly for updates.
Source: Read Full Article