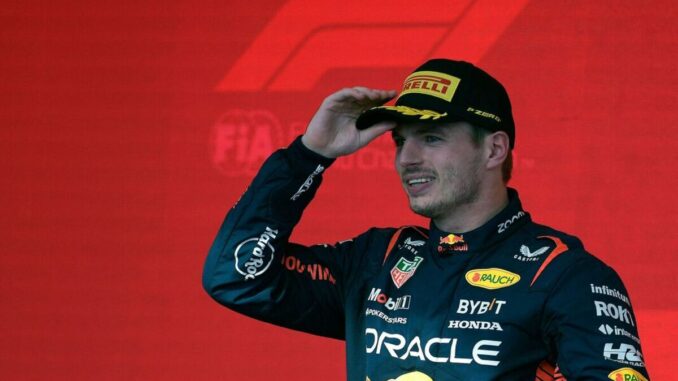 Max Verstappen is looking well set to dominate the 2024 season after reports from Italy stated that the successor to the RB19 will be a departure from the current aerodynamic concept, adding stability at slow speeds and in windy or gusty conditions.
The 26-year-old is currently enjoying one of the most legendary years in F1 history, heading into the final two rounds of the campaign with 17 wins from a possible 20 Grands Prix to his name. With five wins in a row ahead of the race in Las Vegas, there is little to suggest that he won't add to that tally before the curtains close on the 2023 season.
While most neutral and casual fans are hoping that the likes of Mercedes, Ferrari and McLaren can close the gap to Red Bull over the winter, this is unlikely to be the case, according to reports from Italian news outlet Gazzetta Dello Sport. 
According to their reports, both Verstappen and Perez complained of new issues in the extreme and windy conditions at Interlagos last time out. Namely, they were unhappy with the poor balance and stability of the car in the slow-speed corners with the team concerned that the wind was reducing the dominant effect of the RB19's aerodynamic structure.
Click here to join our WhatsApp community to be the first to receive breaking and exclusive F1 news.
Don't miss… Toto Wolff slaps Mercedes staff with Las Vegas GP ban as F1 takes to Sin City[LATEST]
However, this will not be an issue when the RB20 hits the track for pre-season testing next year. The report states that the successor to the most dominant car in F1 history will build on the visual concept of the RB19, but with a new aerodynamic concept.
It was also noted that the car will generate vertical load in a completely different way than the RB19 does, meaning there could be some drastic changes to the behaviour on the track.
More F1…
Lando Norris backed to beat Max Verstappen in Las Vegas to end McLaren drought[NORRIS]
Wolff sets controversial Mercedes rules as Horner tells Perez his biggest flaw[MERCEDES]
Verstappen has chance to break another Hamilton record ahead of final F1 races[VERSTAPPEN]
Support fearless journalism
Read The Daily Express online, advert free
Get super-fast page loading
Such a dramatic overhaul is a bold move from Red Bull given the extent of their pace advantage this season. However, with McLaren making up ground in the development race and Lando Norris regularly pushing Verstappen at the front of the field, they need to continue to evolve in order to maintain their dominance.
These reports confirm the fears of Mercedes' Lewis Hamilton, who was extremely downbeat about Mercedes' chances next year after the Brazilian Grand Prix. He stated: "The Red Bull I think is so far away. I think they're probably going to be very clear for the next couple of years."
Source: Read Full Article