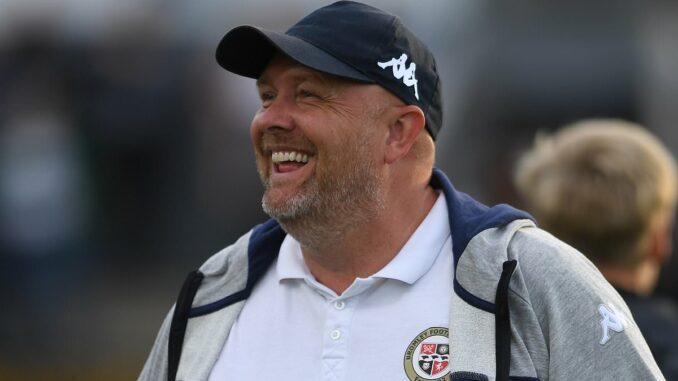 EXCLUSIVE: Andy Woodman insists adding a Football Manager competition winner to his Bromley coaching staff is NOT a 'gimmick' and could be a difference maker in their bid for promotion (but be prepared for his swearing!)
Teaming up with Xbox and FM, Bromley are offering a once-in-a-lifetime role 
Manager Andy Woodman is determined to prove that this is far from a 'gimmick' 
City had their pants pulled down by a development team – It's All Kicking Off 
There are questions aplenty for what Bromley will be getting when a Football Manager 24 competition winner walks through the doors at Hayes Lane as the newest member of the backroom team.
The non-league team have joined forces with Xbox to hand out a one-of-a-kind role on the coaching staff, with FM24 players competing to land a coveted 'Support Performance Tactician' role.
But what would a new recruit be in for when walking into manager Andy Woodman's inner circle?
'Well, bad language for one! I've got to work out my language a little bit, got to stop swearing,' Woodman laughs.
'Everybody's telling me that they're coming into an honest environment, a real hard working environment. We have to work harder than any other club in this league because we haven't got the resources that they've all got.
Bromley boss Andy Woodman is out to show a new collaboration with Xbox is 'not a gimmick'
Bromley (pictured celebrating last season) are flying high again, sitting fourth in the table
Your browser does not support iframes.
'I want them to come in, to wake up in the morning really excited to come into work.
'Whether they like it or not, they're going to be a part of the highs and the lows of Saturday-Tuesday and in the week, so they're really going to be seeing first hand all the emotions of a football club close up on the pitch.'
At 52, Woodman, who has had spells as a goalkeeping coach at a host of Premier League clubs, including Arsenal, Newcastle United and Crystal Palace, does not often get many 'firsts' in football these days.
This, however, is something truly unique.
The ambitious fifth division side, who are currently fourth in the Vanarama National League, have today launched 'The Everyday Tactician', a campaign to find a Football Manager mastermind to join Woodman's coaching staff.
The winner will take up a five-month role at the Kent-based team and will be tasked with helping them steer towards promotion to the Football League for the first time in the club's 131-year history.
'It can only help us,' Woodman tells Mail Sport from his manager's office.
'I'm sure it's going to make one or two green eyes at other clubs, but I must maintain that this isn't a publicity stunt. This is a real opportunity for us to get someone working in house with us that's going to really add value to us.'
One lucky Football Manager 2024 will get the chance to work for a non-league football team
It is a collaboration between Bromley, Xbox and Football Manager to put gamers to the test
One of the biggest compliments to be paid to Woodman is that he is totally transparent in that whoever walks through the door is going to be treated like any other member of his coaching staff with their opinions heard and their opinions challenged.
Bromley has no room for someone making up numbers amid a relentless National League Saturday-Tuesday match schedule.
'We had a meeting this morning about challenging each other a little bit more in the office,' Woodman explained.
'I think when you're winning – and we have been winning of late – you can kind of just go along with the flow a little bit.
'I want us to keep challenging each other and then and whoever this lucky gamer is, we want to challenge them and have a voice in our room and an opinion.'
Woodman laughs when asked how he got on filming a promotional trailer for this collaboration.
'I don't think I'm going to get a part in Eastenders!'
Woodman has worked at Premier League level as a coach and has no qualms deferring to data
The lucky winner will be expected to walk into Hayes Lane and be ready to make a difference 
But, and this is stressed multiple times over a 30-minute conversation, this is certainly no 'gimmick'. If anything, Bromley could well prove to be trailblazers for a path others look to replicate.
'The clubs I have worked for, particularly Newcastle, Crystal Palace and Arsenal, it is all data run,' he adds.
'It's all analytical. Everything is stacked with numbers and people say 'well, look, the games not run by that', well no, but it backs up what your eyes see.
'So if you've got an opinion and then you've got the stats behind it, then you're in a good place and that's definitely the way the game's gone and Football Manager does that in abundance.
'I'm expecting someone to come through the door with some numbers and some stats and really take me out of my comfort zone.'
Competition open only to legal residents of Great Britain and Northern Ireland 18+. Submission date ends 12/4/23. For full details and Terms & Conditions, see www.xbox.com/the-everyday-tactician
A three-part documentary will capture how winner gets on working in England's fifth division
IT'S ALL KICKING OFF! 
It's All Kicking Off is an exciting new podcast from Mail Sport that promises a different take on Premier League football.
It is available on MailOnline, Mail+, YouTube, Apple Music and Spotify.
Your browser does not support iframes.
Source: Read Full Article