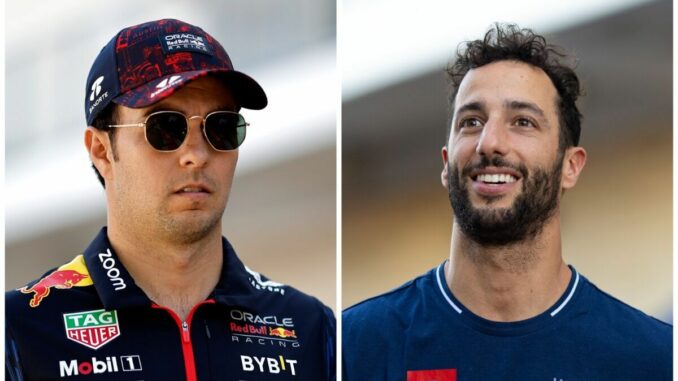 Daniel Ricciardo has been backed to replace Sergio Perez if the under-pressure Red Bull star fails to improve his performances and get closer to Max Verstappen. The Australian was brought back to the team as their reserve driver for 2023 and former F1 world champion Jenson Button has put forward the experienced racer as a candidate to step into Perez's seat in 2024 if the Mexican's poor run of form continues.
Ricciardo's return to Red Bull was only supposed to see him take on a part-time role as their reserve driver for 2023, but he was drafted in at AlphaTauri following Nyck de Vries' short-lived 10-race stint. The 34-year-old impressed until he broke his hand in a crash at the Dutch Grand Prix, keeping him out for five races with Liam Lawson filling in.
And Button, who retired from the sport in 2016 before going on to race in the World Endurance Championship (WEC), believes Ricciardo could potentially step in at Red Bull if they decide Perez is no longer meeting their expectations.
"I think there is a possibility yes," he told Sky Sports F1. "I think in terms of confidence, he has so much confidence in his ability now. He comes back, he's proven he's quick against his teammate and I think that's a big step for him getting into the Red Bull seat.
Click here to join our WhatsApp community to be the first to receive breaking and exclusive F1 news.
READ MORE Red Bull have three drivers on standby if Sergio Perez is fired this season[INSIGHT]
"If Checo isn't close enough to Max when they're in a car that doesn't have the advantage they do right now, they need someone that can pull in those big points, and that is Daniel Ricciardo.
"He's a real racer and he wants to be fighting at the front. He didn't feel the atmosphere was right for him alongside Max. Now he does suddenly."
Ricciardo has already shown signs of improvement from his disappointing spell with McLaren. He was booted out of the Woking-based team with a year still left on his contract as CEO Zak Brown wanted to hire Oscar Piastri instead. And the eight-time race winner insists he is happy to remain with Red Bull after settling back into the team.
Advert-free experience without interruptions.
Rocket-fast speedy loading pages.
Exclusive & Unlimited access to all our content.
DON'T MISS
Marko doubles down on stinging Perez criticism after Verstappen's US GP rant[NEWS]
Max Verstappen fumes with Red Bull over Perez incident at United States GP[WATCH]
Sergio Perez hit with 'passenger' label as desire questioned in future stand-off[REACTION]
"I'm definitely here to stay and I want to stay in the Red Bull family," he told The Mirror. "Being back here, it just feels very right for me.
"I do like Helmut [Marko, Red Bull's special advisor] and his hard approach – I'm a nice, easy-going person but his approach really does work for me. I think it gets a little more out of myself. And Christian [Horner, Red Bull team principal] I've always had a good relationship with. I just feel like the chemistry in the team is really good and I like that."
When asked if he had designs on returning to the seat that he had for four years at Red Bull, Ricciardo admitted it would be his preference to rejoin the Constructors' champions and partner Max Verstappen. But he is happy enough racing at AlphaTauri if the team decide to go another way.
"The big picture would be to get back to that team and that car one day," he added. "But I also said that if there is not an opening then I want to stay here."
Source: Read Full Article