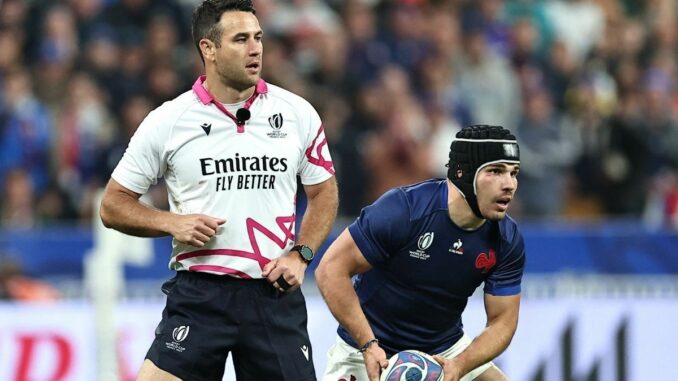 England have made it through to the final four of the 2023 Rugby World Cup where their credentials will finally be tested this weekend. The sub-plot to this year's World Cup in France has been the lopsided draw which worked in England's favour.
Ireland and France would have fancied their chances at going all the way, but ended up facing tough quarter-final matches against New Zealand and South Africa respectively due to the seedings that were made three years ago. Meanwhile, England had arguably the easiest match on paper with Fiji unable to stop Steve Borthwick's men.
That all changes this Saturday when they face off against new world No 1 side South Africa for a place in the final. It's a repeat of the 2019 Rugby World Cup final when England were thrashed 32-12.
Borthwick's side will need to upset the odds once again to overcome the Springboks this time around. Express Sport provides live updates from the World Cup looking ahead to this weekend's semi-finals.
New blog!
Make sure you stay up to date with all the latest news from the Rugby World Cup by checking out our new blog here!
That's all from us folks!
That's all from us for tonight folks. Thanks for following and be sure to join us bright and early for more of the same tomorrow. Sleep well.
Itoje 'doesn't care' about underdogs tag
England lock Maro Itoje has insisted he doesn't care about his team's underdogs tag ahead of their Rugby World Cup semi-final showdown with South Africa on Saturday. The 28-year-old has revealed he watched a documentary about Jason Kelce in which the NFL star said "hungry dogs run faster".
Itoje explained: "Whether we are underdogs or whether we are favourites, I don't really care. It is about what we do in the moment. We're going to go in there hungry. We're going to go in with absolute passion and desire.
"That's going to be our goal. It takes focus and self-belief. These games don't come by too often. You want to take the bull by the horns. It's all about taking opportunities and seizing the moment."
Eddie Jones told to come clean
Eddie Jones has been urged to come clean on his future with Australia amid reports he could take the Japan job. Wallabies legend and close friend Mark Ella says the coach must be more transparent with fans when speaking to the media in Australia on Tuesday.
The former England boss saw his team's preparations during the Rugby World Cup disrupted by reports that he had been interviewed by Japan, with Ella admitting he was surprised by the speculation that Jones could leave his current role already, just nine months after his appointment.
Ella said: "I found that strange. You don't come from England to Australia, and then within six months you're looking at another job. I don't know. We'll all know soon. He'll face the Australian media. He's got to be honest and tell the media and rugby supporters exactly what's going on.
"It probably would be [a bad look], but I can't talk on Eddie's behalf. I'm hoping he meets the press, tells them the truth, that he will be here another four or five years."
Wigglesworth praises South Africa
England attack coach Richard Wigglesworth has heaped praise on South Africa following their 29-28 victory over France in the quarter-finals of the Rugby World Cup. England and South Africa are set to go head-to-head in the semi-finals on Saturday in a repeat of the 2019 final.
"How special is it to be able to beat France, the form they are in, in their own backyard? That was a special performance from an incredible team," Wigglesworth said. "We are probably talking about one of the best rugby teams to ever do it aren't we?
"We are talking about a team that's aiming to go back to back, who have evolved, who have moved on and had a settled coaching team for six years, with settled players and they have added quality to it.
"The strength of their game is well known, and how they play, but I think in the last year or so you've seen a massive evolution in what they do. The difference in who they are picking now, and what that looks like for them. It's what you want to do as a team."
England awaiting medical report
England are still awaiting a full medical report in the aftermath of their Rugby World Cup quarter-final showdown with Fiji, according to The Telegraph. Steve Borthwick's men put their bodies on the line throughout the encounter, with full-back Marcus Smith forced to wear a bandage on his head following a clash of heads. England won the game 30-24 and will now face South Africa in the semi-finals after losing to the Springboks in the final four years ago.
Care pays tribute to Farrell
Danny Care has paid tribute to Owen Farrell after the Saracens fly-half starred in England's Rugby World Cup quarter-final victory over Fiji on Sunday. Farrell was selected at No 10 ahead of George Ford and was booed by some fans before kick-off.
"Owen was the guy in the shirt on Sunday, led us brilliantly as our captain the whole time when he was unavailable," Care said after the last eight showdown. "To have him out there you feel safe, you're in safe hands with him there. I thought he took us around the field brilliantly. He took the three when we needed it earlier. His kicking was brilliant, his defence as well. We're blessed with a few good 10s."
New Zealand admit England fears
New Zealand are using their 2019 World Cup semi-final mugging by England to ward off the threat of over-confidence ahead of Friday night's last-four clash with Argentina. Having beaten Ireland at the quarter-final stage just like four years ago only to plateau the week after, New Zealand want to make sure lightning does not strike twice.
"It's something some of us have already been thinking about," said New Zealand defence coach Scott MacLeod. "I guess an answer from me would be the way we prepare during that week.
"I thought last week our detail and our energy and our focus was top class and it gave the players confidence to go out and execute. In 2019 we didn't do that as well in our week leading into England.
"There were a couple of bits and pieces there – our captain Kieran Read couldn't train and there were disruptions. So, we have to make sure that we don't have those disruptions and we build the week with the quality and the focus that we did last week."
Footage of 'illegal charge' emerges
French media have questioned whether Thomas Ramos' conversion attempt during France's Rugby World Cup quarter-final clash with South Africa should have been re-taken after it was sensationally blocked by Cheslin Kolbe.
Kolbe sent South African fans into a frenzy after blocking Ramos' kick following Peato Mauvaka's try that tied the game at 12-12.
French journalist Clement Mazella took to X (formerly Twitter) after the game and posted video footage that France supporters believe proves Kolbe started his spring before Ramos began his run-up. The slow-motion footage was zoomed in and many feel that it backs up the claim. South Africa went on to win the match 29-28.
Wales want Gatland to stay
Wales winger Josh Adams is leading the calls for Warren Gatland to remain in charge of Wales despite their crushing World Cup exit at the hands of Argentina.
"Warren has been absolutely terrific since he has come in," said Adams.
"He has brought certainty, clarity and I like to think we showed that Welsh spirit and that fight again. It is a decision for him and it is not for me to make, but he has been terrific for us as a squad since coming back."
England to be 'suffocated'
Former England fly-half Toby Flood has tipped South Africa to go all the way in the 2023 World Cup with Steve Borthwick's side set to face the Springboks this weekend.
He told BettingSites: "I haven't been able to get past South Africa for two years. I know they are playing the hosts, but there is that niggle in the back of my head that South Africa have a way of winning a World Cup. When it comes down to big games there is something about them.
"If they can mitigate the amount of mistakes they make then they put themselves in a position where they can suffocate you. There is something in their DNA."
Farrell defended
Owen Farrell's boo boys won't distract the England captain from the bigger picture at this year's World Cup, according to Richard Wigglesworth.
Farrell's name was roundly booed when his name was read aloud before the quarter-final clash with Fiji, but Wigglesworth insists Farrell knows how to deal with it.
"We're lucky to have Owen, and as ever, the tallest trees catch the most wind and he seemed to catch a fair bit of it," said Wigglesworth. "But he's proven himself time and time and time again.
"I don't understand why in England we feel the need to not celebrate that, not enjoy it just because he's not sat in front of social media or media lapping all that up."
Silent Prince William
Wales star Dan Biggar has admitted there was an awkward silence in the dressing room when Prince William and Prince George came to meet the players after their World Cup exit to Argentina.
Wales were knocked out in the quarter-finals in a humbling 29-17 defeat and the players were offered their condolences by Prince William and his eldest son George.
But Bigger has admitted there wasn't much else that the Royal Family pair had to say.
The Wales star said: "Prince William and George came into our changing room after the game, but they didn't have much to say. I don't think they knew what to say – a bit like the rest of us."
'Unconcious bias against Pacific Island teams'
Fiji captain Waisea Nayacalevu has sensationally claimed there is "absolutely" unconcious bias against Pacific Island nations from officials at the 2023 World Cup.
England brushed past Fiji with a 30-24 victory on Sunday to progress to the semi-finals, but Nayacalevu was unimpressed by the officiating in Marseille.
"Yeah, I'll be honest. I was frustrated with a few calls," he said.
"They had already formed a ruck and then [Maro] Itoje just came in and grabbed onto the ball and there was no penalty there. Three times in the game."
Game-winning charge
It's rarely seen in test rugby, but Cheslin Kolbe may be credited as the difference maker for South Africa after his incredible charge down block for Thomas Ramos' conversation attempt.
France had a chance to regain the lead in a frantic first half of rugby when Ramos stepped up for his conversion on the side of the pitch.
But Kolbe had other ideas as he raced down the kicker from the touchline and incredibly blocked the conversion.
The block had casual rugby fans searching the rulebooks as the charge down is rarely seen in professional rugby.
But the laws state the opposing team can begin charging when "the kicker begins the approach to kick".
Kolisi praised
South Africa rugby icon Bryan Habana has lavished praise on South Africa captain Siya Kolisi for his role in inspiring a nation at this year's World Cup.
"He brings a certain pragmatic energy and complete humility that is almost unmatched in world rugby at the minute," he said on ITV.
"He's absolutely admirable in everything he does. There is a greater sense that sport can change your life and if there is a person in the world for which that is 100 per cent a testament to it's Siya Kolisi."
'Ireland will look at that'
Sir Clive Woodward has suggested Ireland missed a trick by refusing to go for a drop goal in their quarter-final loss to New Zealand.
Ireland were knocked out of the World Cup on Saturday in heartbreaking fashion, but Woodward felt the Irish could have got the job done had they followed England's tactic.
"We were shouting 'drop goal, drop goal'. It's such an important weapon in knockout rugby," Woodward said on ITV.
"I think Ireland will look at that. They had the chance last night Ireland, a couple of times they could have built the score. Keep that scoreboard ticking over.
"Owen Farrell I have to say, a lot of people criticise him starting, he was absolutely brilliant. He led the team well, the drop goal was amazing. Hats off to him, he kept his nerve."
Borthwick bites back
England boss Steve Borthwick has hit back at his side's critics, insisting their dogged win over Fiji is proof they can dig deep when it matters most.
England are seen as outsiders and huge underdogs heading into the semi-finals having scraped through their match against Fiji.
But Borthwick is not paying any attention to the naysayers.
"I don't really care what other people think of us, I care about the development of the team," he said.
"I said this is a team and squad packed full of talented players who perform on the big occasion and they have performed on the big occasion."
Ireland retirement
Peter O'Mahony has indicated that he may step back from international rugby following Ireland's World Cup exit.
Both Johnny Sexton and Keith Earls announced their retirement following Ireland's defeat to New Zealand and O'Mahony has indicated he could join them.
"You've a group of senior players who are moving on. There's no other way of putting it," he said.
"There's a group of guys who won't play for Ireland again who've had an incredible impact on Irish rugby, not only in the last few years but in the last decade. So absolutely, it is the end of an era, yeah."
O'Keefe not popular in France
It's fair to say Kiwi referee Ben O'Keefe won't be welcome back in France any time soon after a controversial no-call in the final quarter-final match on Sunday evening.
South Africa scraped past France by a single point and the match will go down as one of the best in World Cup history.
But O'Keefe has come under heavy scrutiny for not calling a knock down by Eben Etzebeth in the first few minutes of the game.
"It's hard to talk about things at the moment, but I think there were some clear and obvious things that weren't whistled," Antoine Dupont said. "When you have a 60-metre penalty and you're going forward in the rucks, it's pretty clear. I'm not sure the refereeing was up to the challenge."
Good morning
What a weekend of rugby that was!
For France and Ireland fans there will undoubtedly be some heavy hearts after both teams were knocked out in two blockbuster matches.
But England fans can rejoice after making it through to the semi-finals where they will now face South Africa in an almighty clash.
Express Sport is on hand to bring all the reaction from the weekend as well as looking ahead to the semi-finals!
We use your sign-up to provide content in ways you've consented to and to improve our understanding of you. This may include adverts from us and 3rd parties based on our understanding. You can unsubscribe at any time. More info
Source: Read Full Article