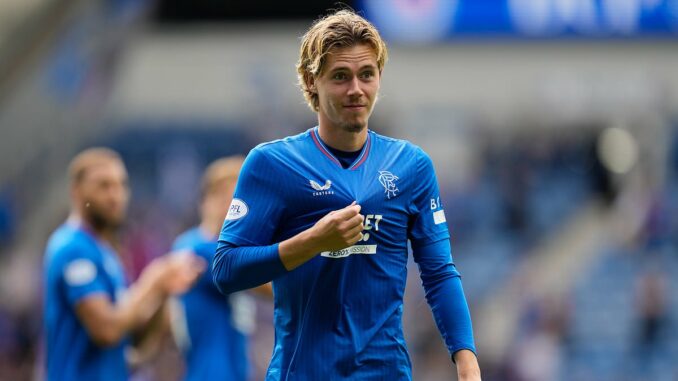 Todd Cantwell is 'away with the fairies' and needs to stay off TikTok to salvage his 'bang average career' after going 'missing' in big games for Rangers, Chris Sutton says on Mail Sport's It's All Coming Up podcast
Cantwell has hit back at Chris Sutton for criticising him since he joined Rangers
Sutton thinks Cantwell deserves the criticism after going 'missing' in big games 
Listen to the latest episode of Mail Sport's podcast 'It's All Kicking Off!'
Chris Sutton believes Todd Cantwell is more famous for his social media presence than his football after the Rangers winger hit back at him for criticising his performances since he moved to Scotland.
Cantwell slammed the Mail Sport columnist's comments about him on The Beautiful Game podcast, claiming Sutton was an attention-seeker who was just trying to stay relevant.
Cantwell's quotes were put to Sutton, who was in no mood to hold his tongue on the subject.
He responded by insisting Cantwell has had a 'bang average career' and claimed the 25-year-old has an elevated opinion of himself.
Speaking to Ian Ladyman on Mail Sport's It's All Coming Up podcast, Sutton said of Cantwell: 'He's had another pop this week. The thing I don't understand, there's this old adage in football – do your talking on the pitch. I think at this moment in time he's away with the fairies. 
Rangers winger recently hit out at Chris Sutton for criticising his performances for Rangers
Sutton (right), has hit back, claiming Cantwell has had a 'bang average career'
Your browser does not support iframes.
'I just think for someone that to date has had a bang average career, he doesn't half have a high opinion of himself. He's better known for his social media presence, being on TikTok, than he is for what he's done on the pitch. 
'If I was him I would want to address that, I think he needs to focus on his football.'
Cantwell suggested it was 'sad' that Sutton had singled him out for criticism, appearing to indicate he felt the ex-Celtic striker had an agenda against him.
Sutton denied this is the case, and urged Cantwell to focus on getting back to his best on the pitch after struggling in big matches rather than spending so much time on TikTok.
'I don't do Kate Bush weird-type dances on TikTok to stay relevant,' Sutton continued.
'My role as a pundit when I'm south of the border is to talk about English teams. I've had a role north of the border for a decade, and pundits talk about all Scottish teams so that's why I talk about Todd Cantwell and Rangers. I also talk about Aberdeen and Hearts and Hibs and all the other Scottish teams because that is my job. 
'I seriously don't know why he's getting involved in these comebacks all the time. I think timing is really important in football, and all these quotes come out on the same day a new Rangers manager is appointed. 
'This is a guy who along with the other Rangers players at the start of this season have had not a great start to the season. The manager has been sacked. 
'What would I be doing in that situation? Honestly, I would be keeping my head down, I would be keeping my mouth shut, I would be training hard and I would be thinking we need to work our way back into a certain level of form before we can even think about spouting our mouths off again. 
Sutton insisted he has no personal agenda against Cantwell, and slammed the winger for not performing well enough to keep Michael Beale in his job
'He's oblivious to it all, and that's the most worrying thing that I can see.
'Michael Beale signed Todd Cantwell, and Michael Beale's big players, Todd Cantwell included, didn't turn up in the big games. Todd Cantwell went missing in action against PSV in the Champions League qualifiers, missing in action against Celtic. 
'You go back to last season in the big, meaningful games against Celtic, what's your memory of Todd Cantwell? Stealing a water bottle, taking a water bottle away from the Celtic midfielder Reo Hatate. Not a ball, taking a water bottle away from him. That is our memory of Todd Cantwell in the big games. I would just reiterate to him, just do your talking on the pitch, Todd.'
Cantwell came through the ranks at Norwich, breaking into the Under 23s team when he was only 16. 
But his career has stagnated over the years, as he was loaned out to Dutch side Fortuna Sittard and Bournemouth, before being picked up by Rangers in January.
Cantwell seems to feel hard done by after leaving Carrow Road, but Sutton feels he has no reason to be bitter after being overlooked by multiple managers, and called for the forward to have a period of 'self-reflection' to figure out where he has gone wrong over the years. 
'I read some of his quotes about Norwich City. The five managers previous to Michael Beale, they all discarded Todd. Why did they discard Todd?' Sutton asked.
'Something must be up. You fall out with one manager, you think well maybe one manager could be wrong. Then you think could two managers be wrong? OK, well we'll give him that. Should we even give him three managers? If we're being generous. But five managers all thought the same thing about him. 
Sutton believes Cantwell has gone 'missing' in big games since joining Rangers in January
Sutton has urged Cantwell to do his talking on the pitch rather than on social media
'So when is the penny going to drop and is Todd actually going to take some responsibility for his own actions? Do your talking on the pitch. 
'You have to maintain that form and he didn't do that. Nobody has a divine right to play in a team or not play for a team because you played in the 23s when you were 16 years old. 
'All these managers would have picked a fit and firing Todd Cantwell if he was playing well enough. Are they all wrong? Why is Todd always the victim in these circumstances? Just a little bit of self-reflection. 
'The fact he talks about himself in the third person tells you all you need to know about him. I mean, who does that? And then the "Bayern Munich nearly signed me". Well, I nearly flew to the moon!'
IT'S ALL KICKING OFF! 
It's All Kicking Off is an exciting new podcast from Mail Sport that promises a different take on Premier League football.
It is available on MailOnline, Mail+, YouTube, Apple Music and Spotify.
Your browser does not support iframes.
Source: Read Full Article