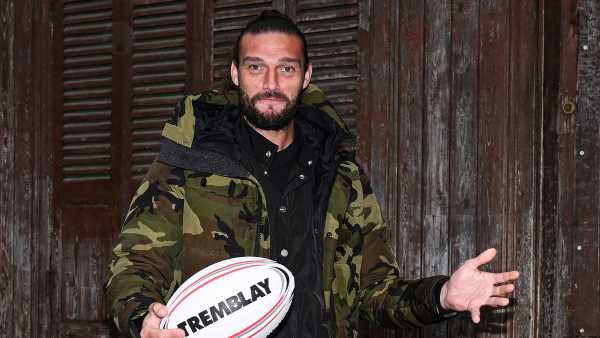 Andy Carroll reveals he is considering cutting his hair off – and that he only grew it long because of a bet with Joey Barton –  to raise awareness for diabetes… as he joins Mail Sport's Croqued Monsieurs
Barton bet Carroll that he would not grow his hair out, so he proved him wrong
Carroll's son suffers from diabetes so he may cut it off for World Diabetes Day
Listen to the latest episode of Mail Sport's podcast 'It's All Kicking Off!'
Latest Rugby World Cup 2023 news, including fixtures, live scores and results
Andy Carroll has explained that he is considering cutting off his hair for charity in the latest episode of Mail Sport's Croqued Monsieurs.
The forward spoke to Nik Simon in France ahead of the Rugby World Cup semi-finals, and revealed he grew his hair because Joey Barton told him he'd pay him £200 for growing it long – but never did.
It's been long since, and on November 14 it's World Diabetes Day. Carroll's son suffers from the illness, so he is considering cutting his locks to raise awareness for diabetes.
Carroll is now based in France, playing for Amiens in Ligue 2 north of Paris, where England will take on South Africa in their semi-final on Saturday.
Not into rugby, Carroll was gifted a rugby ball by Simon, and pledged to research the rules in response. 'It feels weird that,' Carroll said before explaining he'd never really considered playing rugby before and doing a few kick-ups with the ball.
Watch Carroll in the latest episode of Mail Sport's Croqued Monsieurs – an alternative Rugby World Cup diary.
IT'S ALL KICKING OFF! 
It's All Kicking Off is an exciting new podcast from Mail Sport that promises a different take on Premier League football, launching with a preview show today and every week this season.
It is available on MailOnline, Mail+, YouTube , Apple Music and Spotify
Your browser does not support iframes.
Source: Read Full Article