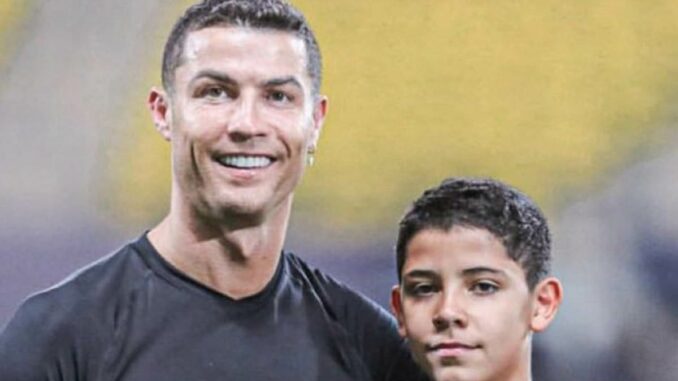 Cristiano Ronaldo's 13-year-old son 'will start training with Al-Nassr's Under-15 side and wear No 7', with promising youngster aiming to follow in legendary father's footsteps
Cristiano Ronaldo's eldest son has reportedly joined Saudi side Al-Nassr
The 13-year-old previously played for Real Madrid, Juventus and Man United
Listen to the latest episode of Mail Sport's podcast 'It's All Coming Up!'
Cristiano Ronaldo's eldest son, Cristiano Jnr, will reportedly be joining up with Al-Nassr's U15s after completing his transfer to the club on Thursday.
The 13-year-old has agreed to join his father at the Saudi Arabian outfit as he continues his young footballing career. 
He has been tipped to make it as a professional and has already played for the academy sides of Real Madrid, Juventus and Man United. 
And Fabrizio Romano has revealed he will be playing with children above his age group as he looks to further his development.
Romano tweeted: 'understand Al Nassr have decided for Cristiano Ronaldo Jnr to start training with U15 squad despite being 13 year old.
Cristiano Ronaldo 13-year-old son Cristiano Jnr, will reportedly play for Al-Nassr 's U15s
'He will start training with the team this week and he's gonna wear No 7.
Ronaldo moved his family to the Middle Eastern nation in January after his contract was terminated at Manchester United and eventually deciding to leave European football.
Ronaldo Jnr has made an impressive start to his career, once scoring 25 goals in eight games during his time at Juventus and will take on his dad's iconic No 7 in his new surroundings.
An agreement has been approved by all involved parties and the youngster is expected to start training with his new team-mates in the next few days.
The five-time Ballon d'Or and serial Champions League winner previously revealed his eldest son wants him to avoid retirement so they can play in a match together. 
Ronaldo Jnr has impressed at youth level and hopes to make it as a professional 
Speaking last year, Ronaldo said: 'My son tells me: dad, hold on a few more years, I want to play with you!' 
However, he will have to hope his dad continues playing past the age of 40 to be in with a realistic chance of lining up next to Ronaldo who celebrates his 39th birthday in February.
Cristiano Jnr is the eldest of five children, with Ronaldo first becoming a dad at the age of just 25-years-old when his son was born in June 2010, however the mother's identity has never been publicly revealed.
The youngster has followed his dad throughout his prestigious career, but the Man United and Real Madrid legend admitted he is putting no pressure on him to be a footballer.
'I will never pressure him. He will do what he wants,' Ronaldo previously explained.
'Also what I want the most for Cristianito and everyone else is that they're happy and that they choose what they want. I will support in any way.'
IT'S ALL KICKING OFF! 
It's All Kicking Off is an exciting new podcast from Mail Sport that promises a different take on Premier League football, launching with a preview show today and every week this season.
It is available on MailOnline, Mail+, YouTube , Apple Music and Spotify
Your browser does not support iframes.

Source: Read Full Article