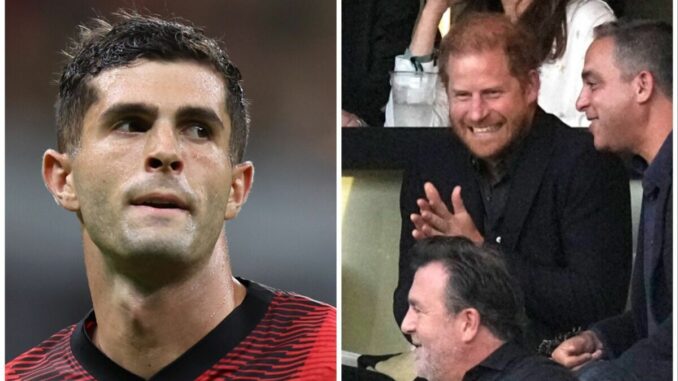 The reasons behind Lionel Messi's move to the MLS
USMNT forward Christian Pulisic has hit out at the celebrities in attendance to watch Lionel Messi and Inter Miami's MLS win over Los Angeles FC. The AC Milan winger made a not-so-subtle jibe to remind A-Listers that they are also invited to attend national team games in a post on social media.
The game in question saw Messi's Inter Miami team head to LAFC's BMO Stadium in their latest MLS clash. Miami ended up winning the tie 3-1, which included two assists from the seven-time Ballon d'Or winner.
Taking place in the heart of Los Angeles it was no surprise to see the stadium packed with the biggest names in entertainment with LA being home to several famous faces.
A number of stars were in attendance including Selena Gomez, Edward Norton, Leonardo DiCaprio, Owen Wilson and Prince Harry. And while fans were elated to see the icons of stage and screen, the majority were in town to witness Lionel Messi in the flesh.
While the support has been of benefit to the league, not everyone has been pleased with the celebrities turning out in their droves to watch the game.
USMNT forward Christian Pulisic shared a video on social media that showed all the famous faces in attendance, and wrote a caption saying: "Let them know they're invited to US national team games too."
The lighthearted comment does come with an element of truth after the list of 'notable attendees' was released after the game. A number of fellow athletes also showed up with James Harden, LeBron James, Layton Kershaw and Julio Urias on the list.
Don't miss…
Prince Harry beaming as he joins star-studded crowd watching Lionel Messi in LA[LATEST]
Lionel Messi 'made private deal' to bypass MLS rules after Inter Miami arrival[REVEALED]
Gylfi Sigurdsson grabs deadline day move after ex-Everton star's failed MLS deal[REPORTS]
We use your sign-up to provide content in ways you've consented to and to improve our understanding of you. This may include adverts from us and 3rd parties based on our understanding. You can unsubscribe at any time. More info
In the footage following Miami's 3-1 win celebrities can even be seen getting items signed by the World Cup winner and reacting in amazement, much to Pulisic's annoyance.
The winger currently plies his trade in Italy where he signed for AC Milan after four years under contract at Chelsea. The 24-year-old saw his gametime drastically cut and sought a reported £20 million move to the Italian giant.
Pulisic has enjoyed a new lease of life in Italy with two goals in just three games. The American is next in action when the USMNT face Uzbekistan on Saturday in a friendly, and he will be hoping that plenty of celebrities are in the crowd at the CITYPARK stadium in Missouri.
Source: Read Full Article