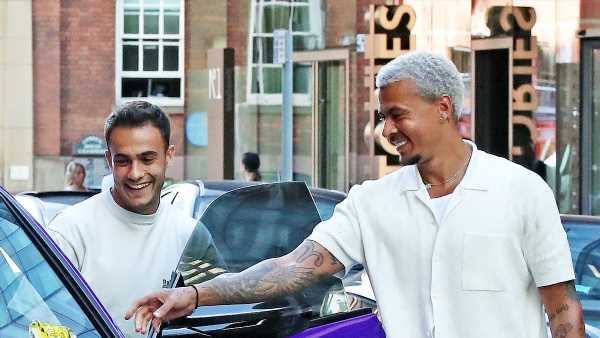 Tottenham friends reunited! Dele Alli takes new Man United signing Sergio Reguilon out for lunch in his £260,000 Lamborghini Urus, before laughing off a £60 ticket for parking on a double yellow line
Dele Alli and Sergio Reguilon played 22 games together while at Tottenham
Alli is still out injured for Everton while Reguilon is filling in at left back for United 
Listen to the latest episode of Mail Sport's podcast It's All Kicking Off 
Dele Alli and Sergio Reguilon were spotted getting into a car together in Manchester city centre, having gone for lunch as the former Tottenham team-mates renewed their acquaintance.
The pair played some 22 games together at the north London club, but are both now plying their trade away from the Tottenham Hotspur Stadium. 
Alli has returned to Everton – where he has one season remaining on his reported £100,000-a-week deal – after an ill-fated season-long loan at Besiktas in 2022-23. 
Reguilon meanwhile secured a deadline day loan deal to Manchester United from Spurs, with the Red Devils thought to be covering his £48,000-a-week wages as he fills in for the injured Luke Shaw and Tyrell Malacia. 
The duo were seen getting into Alli's £260,000 Lamborghini Urus 4×4 having returned from lunch at Manchester's fine-dining restaurant, 20 Stories on Tuesday, after Alli picked up his old team-mate. 
Dele Alli (left) and Sergio Reguilon (right) were spotted in Manchester in a £260,000 Lamborghini Urus, with the former taking the latter to lunch at the city's 20 Stories restaurant
Alli and Reguilon were then seen laughing off a parking ticket on their return, having parked on a double yellow
The pair played together 22 times at Tottenham, but are both now plying their trade elsewhere
It is thought that the old team-mates spent around two hours at the restaurant, with Alli having left Tottenham last year for the Toffees, leaving them with plenty to catch up on.  
However their lunch date was far from plain sailing, as they picked up a parking ticket after leaving the luxury car on a double yellow line in Manchester city centre. 
Alli and Reguilon were both seen laughing as the former England international picked up the ticket from his wipers, before getting into the car seemingly unperturbed by the impending fine. 
Both stars are yet to feature for their sides this season, with Reguilon only recently arriving at Old Trafford having seen his stock fall in north London. 
Alli is still out of action with a muscular injury, but will be keen to reignite his career in England under Sean Dyche. 
The midfielder's time in Turkey did not go as planned, and culminated in his loan being terminated prematurely, before he was photographed at a table with alcohol and nitrous oxide canisters. 
He later revealed to Gary Neville on The Overlap that he had suffered sexual abuse as a child, and was struggling with addiction, but admitted he had checked himself into a rehabilitation facility to seek help, in an emotional tell-all interview. 
He now finds himself at a turning point in his career; aged just 27 still, he has nearly a decade ahead of him in the game, but has fallen some way after his dramatic rise to the top of English football.  
The pair are thought to have spent around two hours at lunch at the fine-dining restaurant before returning to the car
Alli revealed that he spent six weeks at a rehab centre in the US this summer after returning from his loan spell in Turkey
Reguilon agreed a season-long loan to Manchester United from Tottenham on deadline day
For Reguilon, a spell with United brings an opportunity to kickstart his own Premier League career, after things look to have petered out under Ange Postecoglou at Tottenham. 
He arrives at United at a time when the club are short on left backs, with both Shaw and Malacia injured, and while a move for Marc Cucurella from Chelsea had been floated, the Spaniard made the switch on deadline day. 
'He is very experienced player, played for big clubs, played a lot of games in La Liga and Premier league so has a very good background so he can play very intense football so we are happy,' said Erik ten Hag of his new player.
'We had a problem with Luke Shaw injured so we covered very well in an emergency situation.'

Source: Read Full Article