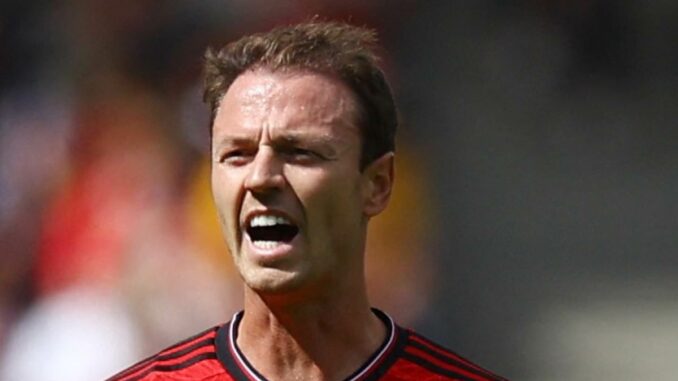 Jonny Evans admits his kids DON'T believe he played for Manchester United…as defender reveals what makes surprise Old Trafford return so special
Jonny Evans returned to Manchester United this summer 
The Northern Irishman played for United between 2007 and 2015 
Listen to the latest episode of Mail Sport's podcast It's All Kicking Off 
Jonny Evans has revealed returning to Manchester United has a special meaning for his children, who are seemingly reluctant to believe their dad played for the club.
The former Northern Ireland international complete a surprise move back to United last week, penning a 12-month deal eight years after leaving the club.
Having initially returned to Carrington in the summer to maintain his fitness, the 35-year-old impressed Erik ten Hag in training.
Evans' return to United will give his three children the chance of seeing him in action in the famous red shirt after they missed out on his first spell at Old Trafford.
'I think they know I used to play for Man United, but I don't think they believe me in that sense,' Evans told United's website on Tuesday.
Jonny Evans has returned to Manchester United eight years after leaving the club
The 35-year-old signed a 12-month deal with United earlier this summer 
Your browser does not support iframes.
'It's nice that they're going to be able to watch me. 
'My eldest was actually born during my last season at the club [2014/15] so it'd be nice to be able to take them to Old Trafford and for the children to see their dad running out at Old Trafford would be something special for any child.
'So, I'm really fortunate and lucky that I get to do that.'
Evans won three Premier League titles, two League Cups and the Champions League with United between 2007 and 2015, before leaving to join West Bromwich Albion and then won the FA Cup in 2021 with Leicester City.
The 35-year-old made his 199th appearance for United as he came on as a second half substitute for Victor Lindelof in the 3-1 defeat against Arsenal on Sunday.
And with United facing a defensive injury crisis, the Northern Irishman could be called upon again over the coming weeks.
By returning to Old Trafford, Evans was also reunited with his wife Helen McConnell, who also hails from Norther Ireland and works for MUTV.
McConnell was snapped up by Belfast model agency Style Academy and even appeared as a Sunday Life Covergirl finalist in 2004 before moving to Manchester. 
Evans won three Premier League titles, two League Cups and the Champions League with United between 2007 and 2015
She worked as a freelance presenter covering Irish league games before landing a role at United's in-house channel MUTV.
An interview with Evans in 2011 for MUTV kick-started a blossoming relationship that moved quick as the pair wed two years later.
A star-studded wedding saw McConnell and Evans marry back in Northern Ireland during a ceremony and reception at County Down with United stars of old in attendance as the duo tied the knot.
After Evans left the club in 2015, his wife remained at Old Trafford and was part of the media team working with the club on their pre-season tour of the United States earlier this summer.
Evans' wife Helen McConnell has been working for United's in-house channel MUTV for over a decade and first met her husband during an interview in 2011
Evans and McConnell were married at a lavish ceremony in Northern Ireland in 2013
The couple have three children and Evans said he's looking forward to play in front of them at Old Trafford, as they missed his first spell at United
With his wife employed by the club Evans, who grew up supporting United, felt a strong connection to Old Trafford even after leaving in 2015.
'I've been a Man United fan since I can remember, and I was still able to come to some of the games, you never lose that,' he said.
'And I experienced that when I went to other clubs 
'There were still big connections with the club, with my wife obviously working for MUTV and working for the club in different parts, so there's always been that connection for me.' 
IT'S ALL KICKING OFF! 
It's All Kicking Off is an exciting new podcast from Mail Sport that promises a different take on Premier League football.
It is available on MailOnline, Mail+, YouTube, Apple Music and Spotify.
Your browser does not support iframes.

Source: Read Full Article