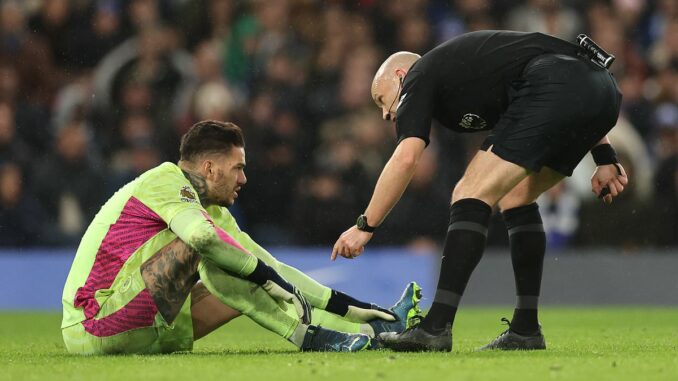 Ederson withdraws from the Brazil national team after suffering a foot injury against Chelsea and is a doubt for Man City's Premier League clash against Liverpool
The Manchester City goalkeeper has withdrawn from the Brazil national team
Ederson suffered a foot injury in Sunday's 4-4 draw at Stamford Bridge
It's baffling why Guardiola sold Palmer to a rival club – It's All Kicking Off
Manchester City face potentially taking on Liverpool after the international break without Ederson after the goalkeeper withdrew from the Brazil national team.
The City shot-stopper suffered a foot injury in Sunday's exciting 4-4 Premier League draw against Chelsea and is now unavailable for Brazil after an assessment was performed.
Ederson is City's trusted goalkeeper but now faces the possibility of missing out against Liverpool in the first match back after the ongoing international break.
His injury occurred in the closing minutes of the weekend clash at Stamford Bridge, however, the severity of the injury is yet to be determined but had been deemed severe enough for him to miss out on games against Colombia and Argentina.
Brazil's team doctor Rodrigo Lasmar provided an update on Ederson's issue after coach Fernando Diniz called up Bento, from Athletico Paranaense as his replacement.
Man City goalkeeper Ederson has withdrawn from the Brazil national team squad due to injury
City manager Pep Guardiola faces the possibility of Ederson being unavailable for his side's clash against Liverpool
Your browser does not support iframes.
'After the game, the player got in touch, as did Manchester City's medical department,' said Lasmar.
'He suffered a foot injury in the final minutes and was able to continue the match, but the pain became intense. 
'The foot became swollen, difficult to walk. At first, we postponed the presentation to take exams. After the exams, and also due to the short time, the issue of displacement, I would not be able to be available at the first moment. 
'The coaching staff opted for a more ready-made option,' he said. 
Ederson suffered a foot injury in Sunday's 4-4 draw against Chelsea at Stamford Bridge
City host Liverpool at the Etihad in their first match back after the international break
Ederson has been Brazil's first-choice goalkeeper ahead of Liverpool's Alisson Becker since last year's World Cup and has so far featured in all four of their 2026 World Cup qualifiers.
City's reserve goalkeeper Stefan Ortega will likely deputise if Ederson is unfit to play against Liverpool, but the 31-year-old has only played three times this season and only once in the league.
The reigning Premier League champions host Liverpool at the Etihad on Saturday November 25, giving Ederson just over 10 days to recover from his injury.
IT'S ALL KICKING OFF! 
It's All Kicking Off is an exciting new podcast from Mail Sport that promises a different take on Premier League football.
It is available on MailOnline, Mail+, YouTube, Apple Music and Spotify.
Your browser does not support iframes.
.
Source: Read Full Article