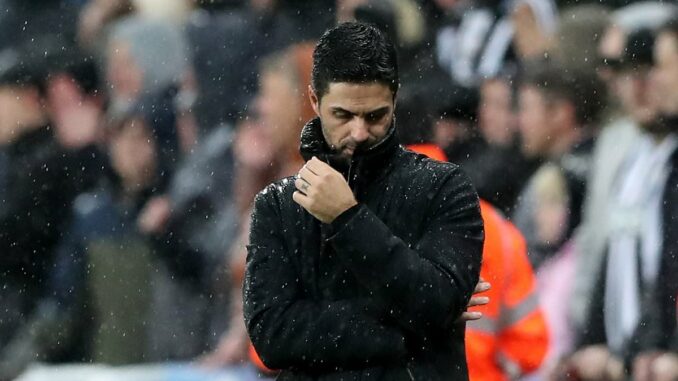 'Every f***ing week!': Richard Keys blasts 'hopeless' Premier League officials in a 1,000-word rant on refereeing standards… and admits he's 'as angry as Mikel Arteta' after more VAR controversy this weekend
Richard Keys has criticised refereeing standards in a furious rant on his blog
He believes that 'substandard officiating is ruining the best league in the world'
CHRIS SUTTON: Arsenal manager Mikel Arteta is a CLOWN – It's All Kicking Off 
Richard Keys criticised the standard of Premier League officiating in an astonishing rant on Monday, as he reacted to yet more VAR controversy this weekend.
Mikel Arteta and Arsenal responded furiously after VAR chose not to disallow Anthony Gordon's winner for Newcastle on Saturday, and the club subsequently released a statement urging PGMOL to improve the standard of refereeing. 
Although pundits Gary Neville and Jamie Carragher have since criticised the Gunners for how they responded to the incident, Keys admitted he too was 'angry' with the the controversial decision and has simply had enough of 'hopeless' refereeing in the Premier League.
In this week's blog titled, 'Every f***ing week', the beIN Sports presenter delivered a furious 1,000-word rant to prove, in his mind, why Premier League officials are 'ruining the best league in the world'.
'Here we are again. Every f***ing week,' Keys began. 'It simply isn't good enough. It can't go on. I repeat what I said recently – our current crop of match officials aren't fit for purpose. They're hopeless.'
Richard Keys blasted the standard of Premier League officiating in a furious rant on Monday
Mikel Arteta (above) labelled VAR's decision to let Anthony Gordon's winner for Newcastle stand a 'disgrace' on Saturday, as his side were controversially beaten 1-0 at St James' Park
Keys (left, on beIN Sports with Andy Gray) is fed up with the 'hopeless' standard of officiating
Sky Sports pundit Jamie Carragher highlighted the goal would have also stood without VAR
He continued: 'As you've probably guessed – I'm angry today. As angry as Arteta was – and he had every right to be. And Arsenal had every right to defend their man.
'I believe Arteta was well within his rights to express his frustration following one of the most outrageous injustices I've seen on a football pitch this season – and there's a few to chose from. 
'Ask Gary O'Neil if I'm right. Or (Jurgen) Klopp. Or…. There's too many.'
PGMOL came under particular scrutiny after VAR official Darren England wrongly adjudged Luis Diaz offside during Tottenham's 2-1 win over Liverpool in September.
The referees' governing body described England's mistake as a 'significant human error' and publicly released audio evidence of the blunder after Liverpool complained and claimed that 'sporting integrity' had been undermined.
The first issue VAR checked was whether Newcastle midfielder Joe Willock kept the ball in play
Officials then tried to determine whether there was a push on Arsenal's Gabriel by Joelinton
There was even more controversy on Saturday after VAR failed to overturn Sheffield United's stoppage-time penalty, which left manager Gary O'Neil (above) furious at the match officials
Wolves were also on the unfortunate end of another controversial decision on Saturday, as VAR failed to overturn Sheffield United's soft stoppage-time penalty, which handed the struggling side their first win of the campaign.
Keys claimed that certain pundits who work for leading broadcasters are refraining from speaking freely on the issue in a bid to please their employers.
'I'm in the luxurious position of being able to say what I think about the falling standards of officialdom in our top league – but imagine taking a call from a high ranking PL broadcast official reminding you who pays your wages. Scary,' he said.
'It happened to two people that I know recently. The message was clear "stop criticising the refs". What sort of world are we living in when people who run the game also want to steer the narrative?'
The presenter also surmised that on-field referees are holding back from making 'big decisions', confident that VAR will amend any mishaps at Stockley Park.
Your browser does not support iframes.
Jurgen Klopp (left) was incensed after Luis Diaz's goal against Tottenham was wrongly disallowed in September. Liverpool released a statement slamming VAR's significant error
But Keys also feels that VAR's persistent will to stick to initial on-field decisions is leading to the wrong calls being made.
He added: 'Between them the guys officiating Newcastle/Arsenal had a nightmare. 
'Havertz has got to go off. His challenge was ridiculous and ticked all the boxes for serious foul play under law 12. I believe Stuart Attwell got his yellow card out thinking that if he'd got it wrong VAR would rule. 
'It's what refs do these days. They often don't make big calls because the technology is there as a back-up. As it happened – Andy Madley also failed to make the correct decision. Did he not want to cause his mate trouble?'
IT'S ALL KICKING OFF! 
It's All Kicking Off is an exciting new podcast from Mail Sport that promises a different take on Premier League football.
It is available on MailOnline, Mail+, YouTube, Apple Music and Spotify.
Your browser does not support iframes.

Source: Read Full Article