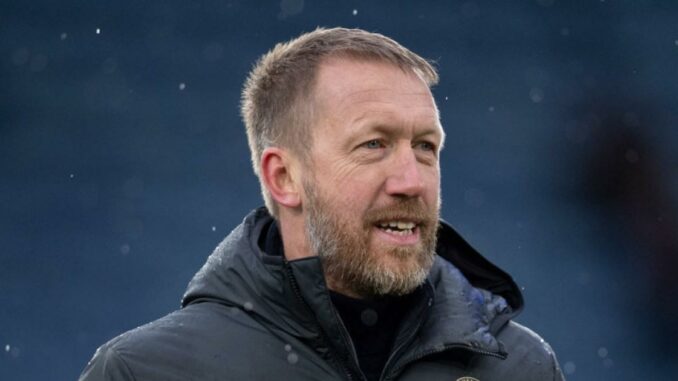 Former Chelsea manager Graham Potter has rejected an approach from Lyon, according to reports.
Chelsea news, exclusives and analysis
The 48-year-old has been out of work since he was sacked by Chelsea in April having spent just six months in charge at Stamford Bridge.
According to L'Equipe, Lyon owner John Textor held talks with Potter this week over the possibility of replacing Laurent Blanc.
However, The Athletic reports that Potter has rejected the chance to manage the Ligue 1 side, although he did consider the offer as an 'appealing opportunity'.
Lyon current sit bottom of Ligue 1 after registering just a point from their openingfour games.
Following a 4-1 defeat at home to Paris Saint-Germain last Sunday, Lyon's ultras gave the players a dressing down on the pitch.
Blanc, meanwhile, has even suggested that Lyon's hierarchy may need to get rid of him.
After the 4-1 loss at home to Montpellier last month, Blanc was asked what needed to be changed, to which he replied: 'You have to change the manager.'
When asked if he wanted to leave Lyon, he replied: 'No, but you're asking me what has to be done, and I'm saying you might have to change the manager.'
For more stories like this, check our sport page.
Follow Metro Sport for the latest news onFacebook, Twitter and Instagram.
Source: Read Full Article