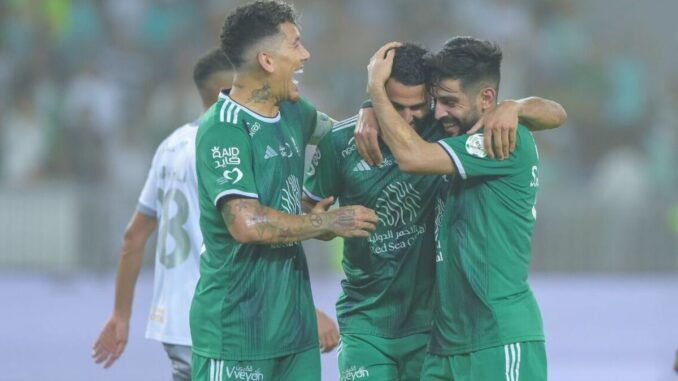 Arteta says he believes Saudi transfer window should end when Europe window ends
Several European clubs, including the Premier League's Big Six, want FIFA to establish regulations for transfer business with Saudi Pro League sides – amid concerns that late payments could collapse the transfer market. Saudi Arabia has established itself as a major trading partner for top European clubs this summer but with no regulations in place to ensure they receive their money on time, fears have been aired. 
A meeting was held on Wednesday between many of Europe's most renowned sides that laid out concerns about the lack of influence regulatory bodies have over transfer dealings with the Middle East, according to the Telegraph. UEFA's "no overdue payments rule" ensures clubs must meet agreed deadlines to pay off transfers otherwise they will not be licensed to play in UEFA or domestic competitions.
If a club has payments that have been overdue for more than 90 days, the UEFA Club Financial Control Body will consider this as an "aggravating factor" and step in. No such restrictions are in place for Saudi Pro League sides though, who made up 11 per cent of all fees paid to top European clubs this summer.
The issue was discussed at the European Club Association (ECA) general assembly in Berlin, where teams agreed on the revenue distribution of UEFA competitions for the next three seasons from the 2024/2025 campaign onwards.
FIFA keeps tabs on world transfers through their transfer matching system (TMS) which helps maintain transparency, efficiency and governance between clubs and football associations. However, ECA members want tougher regulations for big spenders Saudi Arabia after forking out in excess of £700m during their current transfer window which closes today (Thursday, September 7).
Head of Saudi Pro League Operations Carlo Nohra insists their spending isn't a "one-off" and that they intend to continue shelling out staggering fees on players, and so guarantees from FIFA are crucial. "It's very straightforward and I tie it back to our strategy," Nohra told Reuters. "One of the very first objectives that the Saudi Pro League was set was to improve the product. 
Don't miss…
Chelsea 'asked about Awoniyi' 48 hours before deadline with Jackson struggling[LATEST]
Arsenal star Nicolas Pepe 'undergoing medical' with £72m flop on verge of exit[LATEST]
Daughter of Liverpool star Virgil van Dijk, aged 7, crashes live TV broadcast[LATEST]
We use your sign-up to provide content in ways you've consented to and to improve our understanding of you. This may include adverts from us and 3rd parties based on our understanding. You can unsubscribe at any time. More info
"We had to improve quality and in order to improve quality, you have to bring in the best. Spending was always going to be an essential component for us to do this. What you're seeing is simply the Saudi Pro League doing what other leagues needed to do … We have joined these ranks, and we're doing whatever it takes to improve quality on the pitch."
"Look, this is definitely a journey," he added. "This is not just for one weekend. We've set out to achieve this objective to be one of the top 10 leagues in the world. We have a mission, and that is to unleash the potential we have to drive change. We want to become one of the recognised leaders for excellence in governance, in club development and player acquisition, and also in commercialization."
Source: Read Full Article