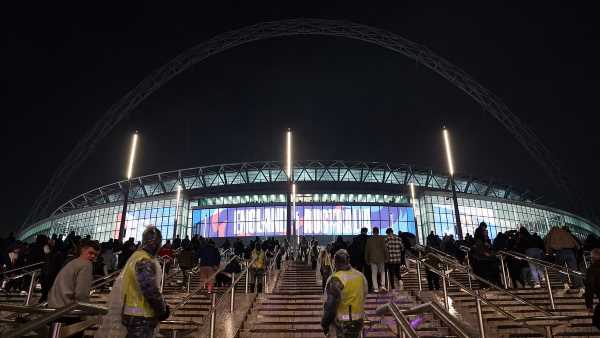 FA chief apologises for 'hurt' caused to Jewish community by their decision not to light up Wembley arch in support of Israel following Hamas attacks
The FA decided not to light up the Wembley arch in the colour of the Israel flag
This followed attacks from Hamas that started at dawn on October 7
The decision was criticised, and the FA chief has apologised for 'hurt' caused 
FA chief executive Mark Bullingham has acknowledged the decision to not light up the Wembley arch following Hamas' attacks on Israel 'caused hurt in the Jewish community'.
The governing body considered lighting up the arch in the colours of the Israel flag for England's friendly match against Australia last Friday after the attacks by Hamas on October 7.
However, they opted against it in a move that was criticised by the Jewish community, with the Rabbi who runs the FA's Faith in Football group resigning over the matter. Reflecting on the decision, Bullingham has now apologised for any hurt caused.
'I recognise our decision on the arch caused hurt in the Jewish community,' he told a Leaders conference.
Explaining why the arch had not been lit up on this occasion, Bullingham added: 'We felt we should show compassion for all innocent victims.'
The FA decided not to light up the Wembley arch in the colours of the Israel flag for England's match against Australia last week
FA chief executive Mark Bullingham (pictured) has apologised for hurt caused to the Jewish community after the governing body's decision
Instead of lighting up the arch, a minute's silence was held and players wore black armbands
Following the attacks, 10 Downing Street lit up in the colours of the Israel flag to show their support for the Middle Eastern country.
The Wembley arch has previously been lit up to show support for the LGBTQ+ community and Ukraine following Russia's invasion of the country last year.
But this time they decided to keep the arch unlit, and Bullingham has confirmed the FA will be reviewing when to light up the arch in the future. 
Instead, the FA decided to hold a minute's silence before last Friday's match with Australia to honour the victims on both sides of the ongoing conflict between Israel and Palestine, while players wore black armbands.
Israel and Palestine flags were banned from being brought in to Wembley, although one Israel flag was spotted being held up inside the venue.
More police officers were also sent to Wembley due to concerns over potential unrest, and were told to arrest anyone showing support for Hamas.
Israel have responded to the attacks by blocking humanitarian aid to Gaza, and the conflict took another horrifying turn when a massive explosion killed hundreds of people at a crowded hospital in Gaza City on Tuesday.
Both sides have blamed each other for the explosion, with Palestinian officials saying the horror explosion was caused by an Israeli Defence Forces (IDF) air strike, while officials in the Jewish state insisted it was the result of a 'failed' rocket launched by terrorist group Islamic Jihad.
Liverpool star Mohamed Salah spoke out on social media on Wednesday, calling for humanitarian aid to be provided 'immediately', as he demanded that 'all lives must be protected' and that 'the massacres must stop'.
Source: Read Full Article