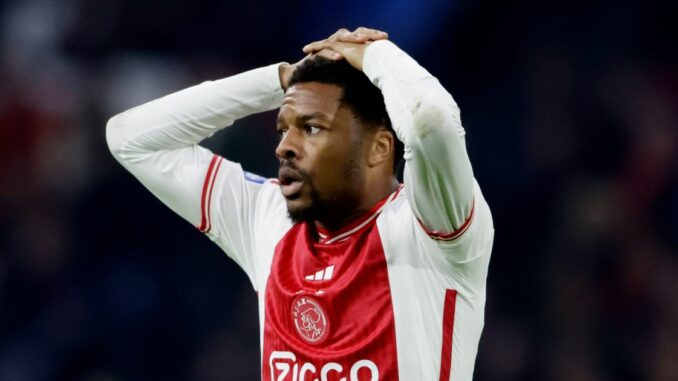 Ex-Arsenal star Chuba Akpom said the beginning of his Ajax career has been a "catastrophe".
The striker – who came through the academy of the Premier League giants – has had a torrid start to his life in Netherlands following his £10million move this past summer from Middlesborough. The Dutch side sit 11th in the Eredivisie in what has been their worst-ever start to a season.
They've won just three league games so far while Akpom has been largely a fringe option during Ajax's struggles. After a run of three straight defeats, the club have got back to winning ways against Volendam and Hereenveen with the Londoner scoring three goals from the bench.
READ MORE: Five huge football clubs who got relegated as Ajax and Lyon still sit in relegation zone
READ MORE:Ajax lose again with match suspended twice in dying moments as Dutch giants hit new low
Akpom, 28, spoke to ESPN after 4-1 defeat of Hereenveen on Sunday (November 5) and opened up about the struggles he's faced since arriving in Amsterdam. "It's been a catastrophe, personally and for the team," he admitted. "I haven't felt settled for two months, it's only this week that I've felt settled. I've been in a hotel by myself, I've not been playing and I feel like I've been alone here, but this week I feel back to my normal self."
Maurice Steijn was sacked as head coach last month and was replaced with John Van 't Schip who the former Arsenal ace attributed his boost in mood. "The manager came and spoke to me straight away, on a human level not a football level. He asked how I am, how my family is.
Will Chuba Akpom lead Ajax to a rejuvenated season? Give us your thoughts in the comments section below
"We're footballers but we're human beings firstly and I really appreciated that little chat with the manager and the assistant. But, it's been really tough for me. I try to stay professional and keep working, but a new country, new environment, new team, in a hotel – it's really a struggle," he continued.
Akpom was positive about Ajax's continued progress following their consecutive victories for the first time this season. "It's not been the normal Ajax," he added. "I feel like the back-to-back wins that we've got now, we're only just going to keep getting better."
Source: Read Full Article