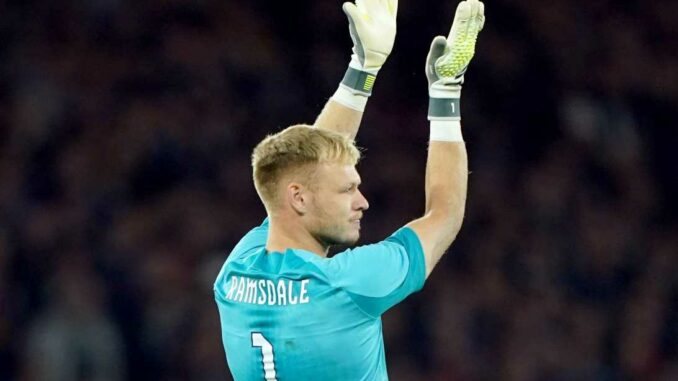 Sign up to Miguel Delaney's Reading the Game newsletter sent straight to your inbox for free
Sign up to Miguel's Delaney's free weekly newsletter
Thanks for signing up to the
Football email
Aaron Ramsdale feels it is "strange" how much attention is being paid to his battle with David Raya to be Arsenal number one – but admits he fears for his England future if he does not win it.
The 25-year-old signed a new contract last season but has found himself on the bench after summer signing Raya broke into the side and has started just once – a Carabao Cup win at Brentford – since mid-September.
Ramsdale picked up his fourth senior England cap in the 3-1 friendly win away to Scotland last month but was an unused substitute in the recent victories over Australia and Italy.
Arsenal manager Mikel Arteta has been asked about the goalkeeping situation ad nauseam since Raya was signed, initially on loan, from Brentford and television cameras are now constantly trained on Ramsdale as he sits on the bench during matches.
The former Bournemouth goalkeeper was mocked by Sky Sports pundit Jamie Carragher after applauding a save from his counterpart during the 2-2 draw with Tottenham.
"I think because it's one of the first times it's happened with the situation it has been difficult," admitted Ramsdale.
"There are times where you're doing the right thing, but it's the wrong thing and if you don't do it, it's the wrong thing. So it's a double-edged sword.
Whether it is me or David who plays we need to be able to just focus and play but at the same time, it's a strange, big headline
"There's a lot of attention and it's a position which is famously said; 'if you're not spoken about means you've done a good job', and there's a lot of talk at the minute.
"Whether it is me or David who plays we need to be able to just focus and play but at the same time, it's a strange, big headline…we have to deal with it and that is what we are doing."
In a recent interview, Raya said the pair were "mates" who had a good relationship, a sentiment echoed by Ramsdale.
"If we didn't get on it wouldn't work. We work professionally really well together," he said.
"There's days where I come in and I'm down because of the situation and he picks me up and for whatever reason there might be a day where he's down and even though I'm suffering and hurting for not playing I have to stand up and be able to push him."
Ramsdale's father, Nick, posted a social media response to Carragher's comments, labelling the ex-Liverpool defender a "disgrace".
"This isn't the first time my name has been in the press and it has been more negative stuff so I have drowned it out before," added Ramsdale.
I know there's a lot of noise but it doesn't affect me. It doesn't help that my dad does it – but it was on a golf trip in Spain with 19 other lads from the local pub.
"I wasn't too mad at him, he didn't say anything out of turn, it just wasn't helpful for the situation, he knew that. He obviously just had a few too many on the golf course!"
Ramsdale is all too aware that his place in Gareth Southgate's squad could come under threat if he remains sidelined at Arsenal.
"For me I need to get back into my club team to keep getting picked (for England) and keep giving the manager a headache because if I'm not, then that's an easier decision for him," said Ramsdale.
"It is (a worry), it is the first time I have found myself in this situation. The (England) manager is brilliant, he trusts the players he's worked with before as we've seen in different types of ways.
"You'll see Kalvin (Phillips) and Harry (Maguire) haven't played the most minutes but when they step up for England and are given the opportunity, they perform."
Source: Read Full Article