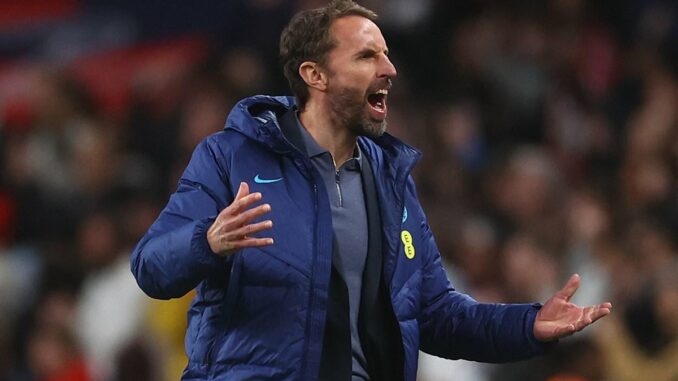 Gareth Southgate says England 'accept the expectation' as one of the favourites for Euro 2024 after qualifying with a 3-1 win over Italy – and thinks there is 'more to come' from his 'relentless' team against top sides
Gareth Southgate insists his team have the mentality to achieve their potential
 He praised his team's composure despite going a goal down against Italy 
 Listen to the latest episode of Mail Sport's podcast 'It's All Kicking Off!'
Gareth Southgate is adamant England believe they can win Euro 2024 after his players booked their place in Germany with a convincing win over Italy.
The visitors took a shock lead through Gianluca Scamacca but England stormed back courtesy of two Harry Kane strikes that took his international tally to 61 and another from Marcus Rashford as Southgate's side qualified for next summer's European Championships.
England's impressive display will serve to reinforce the view that they will head to the tournament as one of the favourites, while Jude Bellingham added to his burgeoning reputation as one of the world's best player with another brilliant performance.
'We have to accept the expectation, the reality is we are one of the teams capable (of winning the tournament) – we are comfortable with that,' said Southgate.
'The biggest things – mentality we have, good technical players, good physicality – but we have to keep winning big matches like tonight. We showed real composure and took control of the game.
Gareth Southgate says there is more to come from hs team after they qualified for Euro 2024
England's manager praised his side's mentality as they came from behind to beat Italy 3-1
Your browser does not support iframes.
'There is more to come from this team. This was the toughest qualifying group, with the seedings. People have criticised us for not beating the top teams enough. But we have performed really well. 
'So hungry, so eager to learn, so together. And you saw that in the performance tonight. We said before that mentality was the main thing. The performance was relentless tonight.
'What was really pleasing was that when we went behind we stayed calm and used the ball calmly from the back. In other big games we have lost the ball too easily. Our forwards worked so hard. When your front players play like that it is a great thing for the team.
On Bellingham, the England head coach added: 'His mentality is incredible. For someone of his age to have such an impact, such maturity and humility at his age – we are very lucky to have him.'
Jude Bellingham turned in another strong performance and Southgate highlighted the midfielder's maturity 
Kane's brace saw him take his Wembley tally for England to 24 – overtaking previous record holder Sir Bobby Charlton.
He said: 'I love playing here at Wembley. I love playing for England full stop.
'To do it here at home is always special, to perform in front of our fans, to wear the badge, to lead the boys out, and of course to score as well is one of the best feelings ever.
'I enjoy the records but we go onto the next one and see how far we can go. This group wants to keep pushing standards. Now we will have to see how far we go next summer.'
arry Kane took his Wembley tally to 24, overtaking previous record holder Sir Bobby Charlton
Kalvin Phillips, seen challenging Davide Frattesi, threw himself into the match after limited minutes with Manchester City 
Meanwhile, Kalvin Phillips has hinted that he is ready to consider his future in January.
Phillips started last night but has hardly played at Manchester City since signing from Leeds in the summer of 2022.
He said: 'I want to be playing as much as possible but I haven't done that for a year and a half. I always try and make sure I am ready for whatever comes.
'I want minutes, I want to go the Euros. We will see what happens.'
IT'S ALL KICKING OFF! 
It's All Kicking Off is an exciting new podcast from Mail Sport that promises a different take on Premier League football.
It is available on MailOnline, Mail+, YouTube, Apple Music and Spotify.
Your browser does not support iframes.
Source: Read Full Article