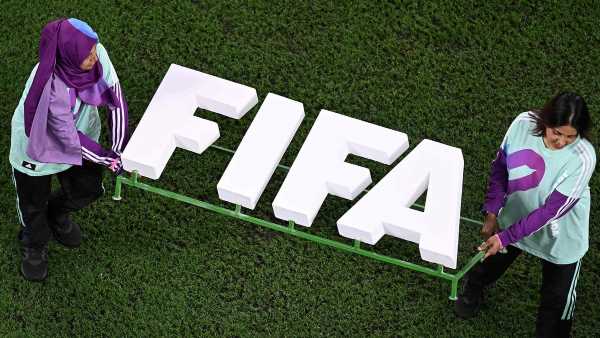 Leading football agents in England join forces to mount legal challenge over FIFA's new regulations – which include commission caps – after the rules were declared 'ILLEGAL' in Germany
Rival agents have banded together to for a united front against the organisation  
New regulations include licensing rules and banning multiple representation 
Listen to the latest episode of Mail Sport's podcast 'It's All Kicking Off' 
Leading English football agents are mounting a legal challenge to the new regulations laid down by FIFA which are to be implemented from October 1.
Agents from CAA, Stellar, and Wasserman, who represent some of English football's leading lights such as Jack Grealish, John Stones, Luke Shaw, Eddie Howe and Mikel Arteta, are normally in fierce competition with each other but are joining forces to combat the plans outlined by FIFA president Gianni Infantino.
A Dortmund court has already ruled that any player agency from Germany is not bound to follow FIFA's new laws on transfer business and the precedence has given their English counterparts encouragement that they have solid grounds to pursue their own case.
FIFA want agents to be licensed, will cap the commission they earn on transfer fees and salaries, prohibit multiple representation and put money into a central banking system through a Paris-based financial clearing house.
The system, formally called the FIFA Football Agents Regulations, or FFAR, is now on hold in Germany due to the court ruling.
FIFA want agents to be licensed, and to cap comission they earn on transfer fees and wages
Fundamental to the court's ruling is the fact FIFA is not authorised to regulate the agents' profession because agents are not members of FIFA and there is no public law basis for FIFA's regulation. Further, Infantino, as FIFA's leader, was threatened with arrest in Germany, should the regulations be enforced on any German.
'The most important thing to understand is these new rules are illegal in Germany and I think any other free jurisdiction,' one German agent told Mail Sport.
'We have stated our case, now what are the likes of England going to do? FIFA has to realise it is not a nation it is just an organisation.
'Agents are vital. Clubs are not doing this by themselves, finding talent. They don't have the manpower, experience or resources everywhere. A lot of clubs need consultancy in negotiations and scouting.
'For example if this went through, African football could be finished. It wouldn't be worth it any more to spot, develop and market players from there for the restricted payment at the end.'
Your browser does not support iframes.
Agents claim FIFA have also set up a 'whistleblower operation' so that rivals can tip off the organisation anonymously over who is breaching their rules.
Sports lawyer Chris Farnell of IPS Law said: 'If you look at the current market prices, this is like an industry bigwig coming into a factory and telling the workers I know you earn £1,000 a week but now it has to be £500. And agents have every right to challenge that as any worker would.
'There is an arbitration process but, it may be, at this late stage, that going to court is the most effective way to grab FIFA's attention.
'Prior to this FIFA said "we don't want to regulate", now they are saying "we do" but it is to a high level with a banking system and monetary control. That is going against competitive employment laws.'
Agents in Czech Republic are expected to follow suit but the English challenge – where the greatest revenue is made – will be the watershed moment.
Premier League clubs spent a record £2.36billion on transfer fees in this summer's transfer window alone.
IT'S ALL KICKING OFF! 
It's All Kicking Off is an exciting new podcast from Mail Sport that promises a different take on Premier League football.
It is available on MailOnline, Mail+, YouTube, Apple Music and Spotify.
Your browser does not support iframes.
Source: Read Full Article