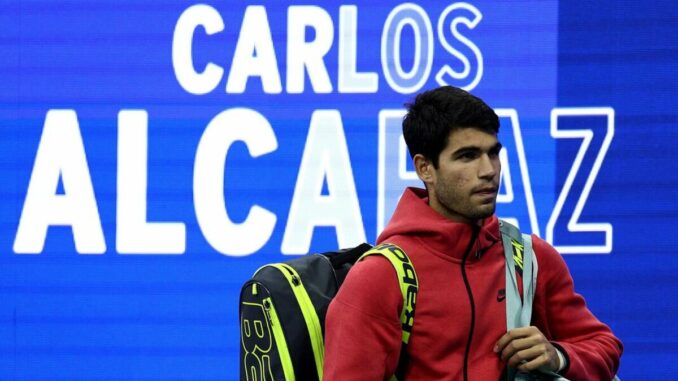 Chinese tennis star Wu Yibing on his journey to ATP Tour
Carlos Alcaraz is in a rush to reach the US Open final, so much so that he was not prepared to wait around for Alexander Zverev. The pair faced off in the quarter-finals at Arthur Ashe Stadium on Wednesday evening, with a semi-final date with Daniil Medvedev at stake.
But when German star Zverev failed to turn up at the court at the scheduled time, the current World No. 1 was not prepared to wait around on ceremony. Instead, he broke with protocol and went to conduct his pre-match interview first, without Zverev.
If mind games were at play, they had little impact on the Spaniard, who showed why he could be on course to win his second consecutive major of the year with an impressive 6-3, 6-2, 6-4 straight sets victory.
Murcia-born Alcaraz has now reached the semi-finals of three Grand Slam tournaments this season, becoming the youngest player to do so since Novak Djokovic in 2007. And should Medvedev be defeated on Friday it could well be a repeat of the Wimbledon final at Flushing Meadows on Sunday.
Djokovic cruised into the final four on Tuesday after beating top-ranked American Taylor Fritz 6-1, 6-4, 6-4. The Serb will now face another home favourite, the unseeded Ben Shelton in the other semi-final.
Zverev faced an uphill battle against Alcaraz due in no small part to the near-five-hour marathon match the German played against Jannik Sinner in the previous round. In stark contrast, Alcaraz has only had one match in this tournament that has barely gone beyond three hours.
Hampered throughout the contest with a hamstring niggle, Zverev offered best wishes to his victorious opponent for the rest of the competition. The pair embraced at the net after Alcaraz had served out the match with a 116mph serve. It was here that Zverev said: "Good luck, go win it."
Don't miss…
Carlos Alcaraz puts on a show as Medvedev warns 'one player is going to die'[WARNING]
Coco Gauff 'warning flag' raised ahead of US Open semifinal vs Karolina Muchova[BUILD-UP]
Madison Keys wins unusual US Open point after she had stopped playing[BIZZARE]
We use your sign-up to provide content in ways you've consented to and to improve our understanding of you. This may include adverts from us and 3rd parties based on our understanding. You can unsubscribe at any time. More info
The top seed has only dropped one set so far in the tournament, against the UK's Dan Evans in the second round, and he had his victory against Zverev wrapped up in exactly two and a half hours.
Speaking after the match, the Wimbledon champion confirmed that he felt good and was ready to take on 2021 US Open winner Medvedev in Friday's blockbuster.
Alcaraz said: "I'm feeling really comfortable playing on this court, playing in New York. I'm feeling great physically. I'm feeling strong enough mentally. I think I'm ready to play a great battle against Medvedev in the semi-final."
Source: Read Full Article