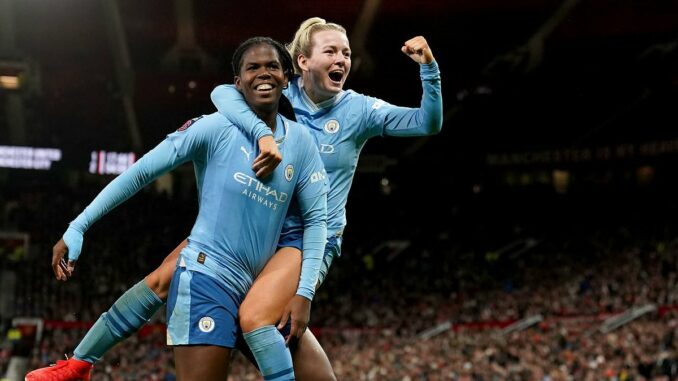 Man United supporter slams Man City's stars for snubbing young fans after their 3-1 victory over arch-rivals in WSL – but others hit out and insist the game was 'not a meet and greet'
Man City beat Man United 3-1 in the WSL in front of a record crowd on Sunday
Post-game, City's players appeared to snub several young fans in attendance
Trent and Bellingham can play together but can't get in each other's way – IAKO 
Man City's players have been slammed for supposedly snubbing young fans after their derby victory over Man United on Sunday.
City beat their arch-rivals 3-1 at Old Trafford after coming from behind in front of a record crowd for a United WSL game of 43,615.
The result saw Gareth Taylor's side leapfrog their opponents in the table and earn the bragging rights after a tensely fought clash that saw City defender Laia Aleixandri sent off late on.
However, in a video shared by a Man United fan on social media, as the City players made their way onto the pitch to celebrate at full-time, they seemed to ignore young supporters in the stands who tried to high-five the players.
The infuriated supporter said: 'First time watching the @BarclaysWSL last night at OT. Really enjoyed it, until the end. @ChloeKelly is his childhood crush, yet every single one of the players ignored them and all the kids around! Does it take much for even a high five @ManCitywWomen…'.
Man City's players have been criticised for snubbing fans after their 3-1 win over Man United
In a video shared on social media, City's stars walked past fans to go on the pitch at full-time
One angry United fan posted about how the players refused to interact with the supporters
He had suggested a little bit of effort from the players would have 'made the young fans days'
Your browser does not support iframes.
In subsequent posts on X, formerly Twitter, the fan continued: 'Even the @ManUtdWomen ignored all the kids too. Pretty disappointing, don't forget where you came from. 40,000+ fans came in the rain to see you all!! The only player who could be bothered to make an effort was @jayderiviere so thank you, you made their day!
'When you're 5-10 years old as the majority of the children around us were, you are not as tribal as older football fans are. Regardless of who they support, these are their idols and the "famous" England players … a look, a smile, a high five would make their day!'
However, the original post generated much debate, with several users hitting out at the criticism of City's stars.
One said: 'I mean you paid for a football game not a meet and greet?'
Another added: 'It's a football game, not a meet and greet. They just played 90 minutes of football, they aren't obliged to take photos with anyone.'
A further fan said: 'My god you didn't go to a meet and greet. The players have no obligation to give you anything back. Maybe next time just sit back, enjoy the match instead of complaining you couldn't get a high five and using your child as a weapon in doing so.'
Other users agreed as a final fan said: 'Why in the hell would City players wait to meet a kid in a Utd shirt??? Grow up mate, this isn't a meet and greet.'
However, other fans hit out at the United supporter and insisted the players did nothing wrong
The United fan then further clarified their reasoning behind the original post later on 
In response to the criticism, the United supporter then added: 'There were 30+ young children next to us that the City players had to walk past. Regardless of who you support as a child these players are their idols and so much as a smile, a hello or a high five they will remember for the rest of their lives. 
'Yes they can't acknowledge 40,000+ fans individually but the lucky few children who were close enough, a small bit of acknowledgment goes a long way! I believe they are fantastic with the fans at Leigh but why change because it's Old Trafford.
'The aim of awareness was achieved and beyond. I'm sure the @ManCityWomen and @ManUtdWomen have seen the video by now, yes it's not a meet and greet but in certain scenarios a small bit of acknowledgment comes with the territory. And in answer to a few comments he did get told off for reaching out to @chloekelly.'
City currently sit third in the WSL and are next in league action when they host Tottenham on Sunday.
IT'S ALL KICKING OFF! 
It's All Kicking Off is an exciting new podcast from Mail Sport that promises a different take on Premier League football.
It is available on MailOnline, Mail+, YouTube, Apple Music and Spotify.
Your browser does not support iframes.

Source: Read Full Article