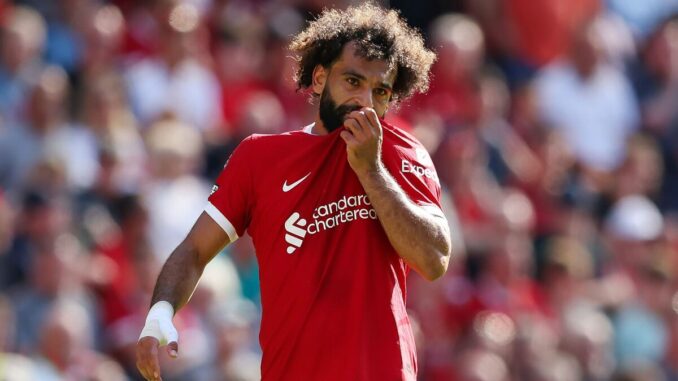 Football Digest: Liverpool start the season strong
Mohamed Salah might have joined Arsenal star Gabriel in Saudi Arabia this week had their respective situations panned out differently. Salah has been the subject of strong interest from Al-Ittihad, with the Saudi champions having reportedly prepared a world-record bid for the Liverpool star. 
An eye-watering £200million offer was being readied for Salah, but Liverpool remained firm. Jurgen Klopp all but confirmed a week prior that the Reds' star man would not be sold. 
Salah remained at Liverpool as the Saudi transfer deadline passed last night. However, the Egyptian might have linked up with Arsenal defender Gabriel had both Premier League clubs accepted moves. 
It is reported that Al-Ittihad explored the possibility of signing the Brazilian this summer. The 25-year-old has fallen down the pecking order under Mikel Arteta, starting only one league game this season. 
READ MORE: Saudi Arabia accused of 'disrespecting' Mo Salah in late Liverpool transfer plan[LATEST]
According to Saudi journalist Ahmed Al-Ajlan, the President of the Saudi Federation met with Gabriel in London last month to discuss the possibility of him moving to Al-Ittihad. The reigning Pro League champions are one of four clubs brought under the ownership of the Public Investment Fund earlier this year. 
That has partially allowed them to go on a huge spending spree that has seen Karim Benzema, Fabinho and N'Golo Kante join the team managed by Nuno Espirito Santo. The Jeddah-based side also lured winger Jota from Celtic but the Portuguese star's future sensationally looked bleak just months after he arrived. 
Gabriel's solitary Premier League start this season might have persuaded him to look elsewhere for a move. Having previously been a regular fixture alongside either Ben White or William Saliba over the last two years, White and Saliba now appear to be Arteta's first-choice centre-back pairing. 
A long-term injury to Thomas Partey could see Gabriel feature more. In Arsenal's 3-1 win over Manchester United on Sunday, White was shifted across to right-back and Gabriel played alongside Saliba. 
We use your sign-up to provide content in ways you've consented to and to improve our understanding of you. This may include adverts from us and 3rd parties based on our understanding. You can unsubscribe at any time. More info
DON'T MISS…
Liverpool and Arsenal will have same feelings on Saudi transfer deadline day[TRANSFERS]
Arsenal have two big fears before Everton clash after surprising call-ups[FOOTBALL]
Ian Wright tells Arsenal they can capture their own Garnacho[QUOTES]
"I don't know if he understands but I told him," Arteta said of Gabriel's lack of game time. "I think he understands the reason, whether he agrees or not, that's something different. But the best way to do it is when you play, just tell me how blind and wrong I am."
Meanwhile, Salah will remain at Liverpool for the time being. Klopp was insistent that the 31-year-old was committed to the Merseyside outfit. 
The German said last week: "I've never had, and I don't have now, doubts about his future, his commitment to this club. Believe me, you can't imagine how much fuss the whole world makes and how calm we are with it."
Source: Read Full Article