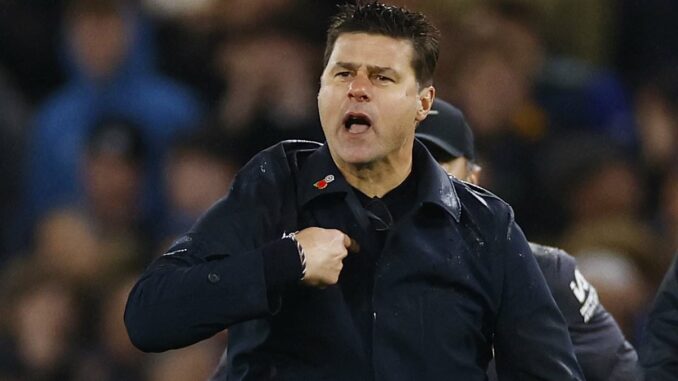 Mauricio Pochettino is the 'best thing about Chelsea right now' and NOT the players or owners, Jamie Carragher insists – as he says 'everything around' the manager must improve after draw with Man City
Jamie Carragher has lavished praise on Chelsea boss Mauricio Pochettino 
The pundit believes Pochettino is currently the standout aspect at the club
Why we should get excited about Cole Palmer – Listen here to It's All Coming Up 
Jamie Carragher has lavished praise on Chelsea boss Mauricio Pochettino, describing him as the 'best thing' about the club at present.
Pochettino watched on as his side fought back from behind three times to claim a point against Manchester City, with Cole Palmer levelling in stoppage time.
Despite the Blues' shaky start to the season, they enter the upcoming international break in the top half and with their Champions League ambitions intact.
Indeed, the thrilling 4-4 draw will offer Pochettino and his squad renewed hope, and Carragher has insisted the manager remains the standout aspect at Stamford Bridge.
'The best thing about Chelsea right now is Pochettino, not the players or the owners – the manager,' Carragher said, live on Sky Sports.
Jamie Carragher has insisted Mauricio Pochettino is the 'best thing' at Chelsea this season
Cole Palmer scored a dramatic stoppage-time penalty to earn a point against Manchester City
Carragher believes Pochettino must be backed with sweeping improvements across the club
'That's the most important man, when you talk about Chelsea getting back to winning trophies, I'm not sure they could have got a better manager that was available. Everything around him has to improve.
'The players, they'll now have the confidence that they can go up against the best team in the world – confidence in the manager as well, that he can set them up in a certain way, every big game he's given the opposition problems.
'They were the better team against Liverpool, the better team against Arsenal and I think they were the better team today in terms of causing the opposition problems.
'So there's a lot to feel good about at Chelsea – we can go back to the ownership and how much they've spent.
'But in terms of Pochettino and the young players, there's a lot of optimism going forward that they can compete with the best teams and a manager who can compete with the best managers.'
Chelsea return to action at fellow top four hopefuls Newcastle on November 25. 
IT'S ALL KICKING OFF! 
It's All Kicking Off is an exciting new podcast from Mail Sport that promises a different take on Premier League football.
It is available on MailOnline, Mail+, YouTube, Apple Music and Spotify.
Your browser does not support iframes.
Source: Read Full Article