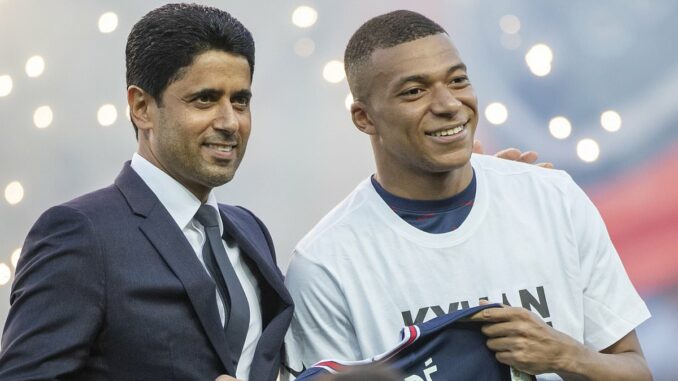 PSG chief Nasser Al-Khelaifi hits back at Neymar as he insists the French giants have 'never been so united' following his Saudi departure… after the Brazilian claimed he and Lionel Messi 'went through hell' in Paris
Former director Leonardo criticised the support for Mbappe, Neymar and Messi 
Al-Khelaifi claimed that PSG would  focus on performance rather than results 
Listen to the latest episode of Mail Sport's podcast It's All Kicking Off
Paris Saint-Germain president Nasser Al-Khelaifi has offered a rebuttal to criticism levelled at the French giants in recent weeks, from both former star Neymar and ex-sporting director Leonardo. 
The Brazilian star left the French capital this summer for Saudi Pro League side Al-Hilal in a deal worth £78million after relationships soured at the Parc des Princes following his world record arrival from Barcelona in 2017. 
However, after securing an exit from the club, he was quick to hit out at how he felt he and seven-time Ballon d'Or winner Lionel Messi had been treated, claiming that the pair had been put through hell. 
Former chief Leonardo similarly suggested that the pair – as well as Kylian Mbappe – were not aided by support from the club and the recognition to create a winning environment. 
As a result, Al-Khelaifi was quick to dissuade talks of tension at the club on his arrival in Portugal for the opening of Sporting Braga's new sporting complex.
Nasser Al-Khelaifi (left) has quashed talk of tension at PSG, claiming they are more united than ever
Neymar (right) previously claimed that he and Lionel Messi (left) went through hell at PSG
Former Sporting director Leonardo criticised the environment around Messi, Neymar and Kylian Mbappe
Your browser does not support iframes.
'Kylian Mbappé is an incredible player and a fantastic person,' Al-Khelaifi said.
'And PSG's team has never been so united on and off the pitch. This is something that we saw in this weekend's 4-1 win at Lyon. 
'We have a fantastic coach [Luis Enrique] and sports director [Luis Campos], and I am very happy with the renewed spirit that reigns in the club.
'This year, in the new PSG cycle, we focus less on results and more on performance and our style of play,' Al-Khelaifi added. 'If we do this, the results will accompany us. 
'But some forget that, in the last four seasons, PSG has reached both the final of the Champions League and the semifinal of the same competition and only two other teams have gone further.'
Despite boasting one of the most fearsome attacking triumvirates in Europe, with Mbappe flanked by Neymar and Messi, PSG were unable to fulfil their ultimate dream of winning the Champions League.
As a result of their perceived star status in the game, fans soon turned on both South Americans in the wake of a disappointing Round of 16 exit against Bayern Munich, which largely saw the start of Neymar's demise in Paris, before his eventual exit. 
Neymar, as per AS Sports, said: 'I was very happy for the year he (Messi) had, but also very sad, because he lived both sides of the coin. 
PSG enjoyed domestic success but once again failed to achieve their dream of winning the Champions League 
Messi left PSG for Inter Miami where he has already made a huge impact for the MLS side
Neymar joined Al Hilal but has yet to make an appearance for them due to an ankle injury
'He realised a dream with Argentina and won everything, but at PSG he lived through hell. We both did.
'Messi left (PSG) in a way that, in a football perspective, he did not deserve. Everything he is, everything he does, anyone who knows him, he's a guy who trains, fights, if he loses he's angry and was unfairly accused.
'It made me very happy that he won the World Cup. Messi deserved to 'end' his career like this.'
A group of fans were recorded outside Neymar's home back in May, chanting for him to leave the Parc des Princes, while Messi was regularly jeered during games towards the end of the season. 
IT'S ALL KICKING OFF! 
It's All Kicking Off is an exciting new podcast from Mail Sport that promises a different take on Premier League football.
It is available on MailOnline, Mail+, YouTube, Apple Music and Spotify.
Your browser does not support iframes.

Source: Read Full Article