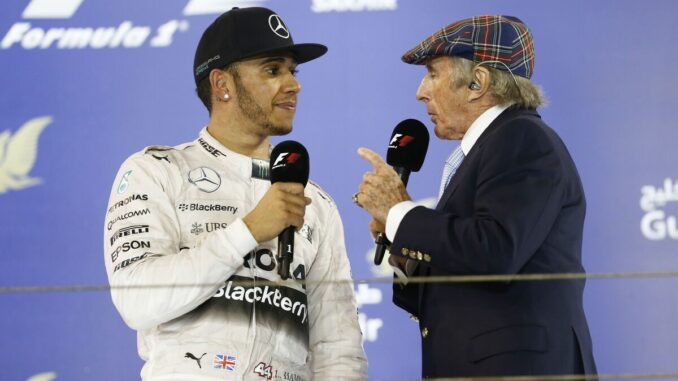 Sir Jackie Stewart feels Lewis Hamilton 'no longer has the hunger' to fight at the front of the grid with Mercedes struggling to build a car capable of challenging Max Verstappen. Hamilton has not won a race in F1 since the 2021 Saudi Arabian Grand Prix – the longest run of his career without a victory in the sport.
Red Bull have set the bar for their competitors while Hamilton had to make do with racing in the midfield at times. Mercedes have made some improvements and there's clearly enough being done behind the scenes as Hamilton extended his contract to the end of the 2025 season last week.
The hope is that Mercedes will be able to close the gap to Max Verstappen at the front of the grid. But Stewart has questioned whether Hamilton's drive is still there to return to the summit of the sport.
"First of all, Lewis is one of the best to have driven in Formula 1," he told Bild. "But the truth is that over the past decade he has raced with Mercedes for a team that has been virtually non-competitive.
Click here to join our WhatsApp community to be the first to receive breaking and exclusive F1 news.
"Lewis only had one real competitor during this period: his respective teammates. Up until 2016, he always emerged victorious from the duel. And then he lost to Nico Rosberg.
"With all due respect: a good driver, but not the most talented in the world. But Rosberg was just hungry, had the absolute will to become world champion.
Don't miss…
Nico Rosberg calls Toto Wolff out for 'ungracious' answer to Red Bull question[LATEST]
Damon Hill drops Lewis Hamilton hint that will get Max Verstappen's attention[LATEST]
Felipe Massa 'expects' Ferrari support in bid to overturn Lewis Hamilton's title[LATEST]
We use your sign-up to provide content in ways you've consented to and to improve our understanding of you. This may include adverts from us and 3rd parties based on our understanding. You can unsubscribe at any time. More info
"Lewis no longer has that hunger. Because of that – and because the car is no longer quite as powerful – he has serious problems." But while Stewart doesn't think it's 'impossible' for Hamilton to win a record eighth world title, the F1 icon has his doubts on Hamilton pulling it off.
He added: "That also depends on Mercedes. It's not impossible, but I still don't think he'll be able to do it."
Hamilton is currently in a battle with Fernando Alonso to finish as the best-of-the-rest this season. The 38-year-old is six points behind his former team-mate in the Drivers' Championship heading into the Singapore Grand Prix next week.
Source: Read Full Article