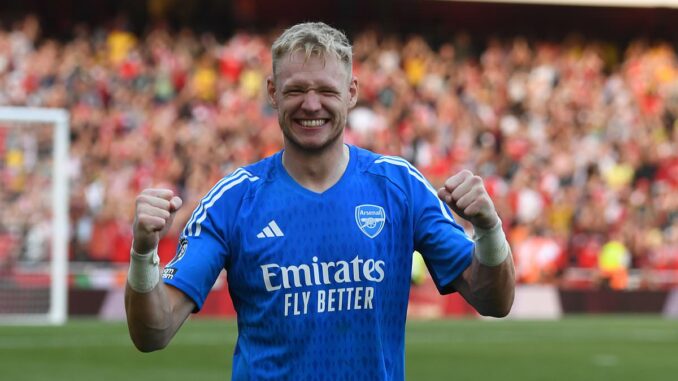 Aaron Ramsdale is shortlisted for the Yashin Trophy in 2023 Ballon d'Or awards, with the Arsenal goalkeeper joined by three other Premier League stars and a former Nottingham Forest man
Aaron Ramsdale has enjoyed an impressive year between the sticks at Arsenal 
But despite his inclusion, several other goalkeepers will competing for the gong
Listen to the latest episode of Mail Sport's podcast It's All Kicking Off 
Aaron Ramsdale has been shortlisted for the Yashin Trophy in the 2023 Ballon d'Or awards alongside three other Premier League goalkeepers.
The prestigious gong will be given to the world's best stopper next month and Arsenal No 1 Ramsdale is in contention on the 10-man strong list. 
Fellow top-flight keepers Andre Onana, Emiliano Martinez and Ederson, of Manchester United, Man City and Aston Villa respectively, are also up for the prize.
They have been joined by Mike Maignan, Yassine Bounou, Brice Samba, Thibaut Courtois, Dominik Livakovic and Marc-Andre ter Stegen, meanwhile.
Real Madrid's Courtois is the current holder of the Yashin Trophy.
Arsenal goalkeeper Aaron Ramsdale has been nominated for this year's Yashin Trophy
Ramsdale has impressed for both club and country but is rivalled by a host of other stoppers
Thibaut Courtois the current holder of the gong (pictured) after his heroics for Real Madrid
YASHIN TROPHY NOMINEES
Aaron Ramsdale (Arsenal)
Andre Onana (Manchester United)
Emiliano Martinez (Aston Villa)
Ederson (Manchester City)
Mike Maignan (AC Milan)
Yassine Bounou (Al Hilal)
Brice Samba (Lens)
Thibaut Courtois (Real Madrid)
Dominik Livakovic (Fenerbahce)
Marc-Andre ter Stegen (Barcelona) 
Ramsdale has enjoyed a superb year at the Emirates, having helped the club challenge for the league title before losing out to City in agonising fashion.
Despite David Raya arriving on loan from Brentford and Mikel Arteta weighing up handing the understudy a chance, Ramsdale remains the club's first-choice. 
Onana featured in Inter Milan's Champions League final defeat while Ederson claimed yet another major trophy with a City side that completed an historic Treble.
Martinez has also caught the eye with a string of superb stops under Unai Emery.
Elsewhere, Maignan has become France's No 1 while Bounou secured a lucrative move to Saudi Arabian side Al Hilal after winning the Europa League at Sevilla.
Samba, formerly of Nottingham Forest, is a surprise inclusion on the list.
Despite his season-ending ACL injury, Courtois will be among the favourites to defend his title, though LaLiga rival Ter Stegen is hoping to challenge him.
Croatia goalkeeper Livakovic was crucial to his country's run to the World Cup semi-finals in 2022 and recently joined Fenerbahce in Turkey. 
Manchester City No 1 Ederson has also made the shortlist and may be among the favourites
IT'S ALL KICKING OFF! 
It's All Kicking Off is an exciting new podcast from Mail Sport that promises a different take on Premier League football.
It is available on MailOnline, Mail+, YouTube, Apple Music and Spotify.
Your browser does not support iframes.

Source: Read Full Article