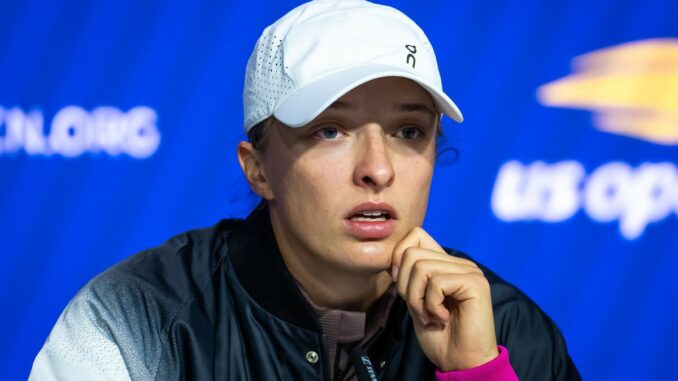 Iga Swiatek released a passionate statement following her early exit from the US Open. As a result of her fourth-round loss, the 22-year-old will lose the world No 1 ranking for the first time since ascending to the top last March. Swiatek was the reigning champion in Flushing Meadows but was upset by 20th seed Jelena Ostapenko.
Swiatek's title defence at the US Open came to an end on Sunday night as Ostapenko defeated her 3-6 6-3 6-1. The Pole came into New York with her world No 1 status at risk, as she was in a two-horse race for the top spot with Aryna Sabalenka.
The four-time Grand Slam champion had to make it one round better than the 25-year-old or she was guaranteed to drop in the rankings on the first Monday after the tournament. With the Swiatek's half of the draw playing first, the pressure was on the Pole to win every match or immediately succumb to Sabalenka.
Since losing her No 1 standing to the Belarusian, Swiatek has released a statement about her chance to have a "clean slate". Taking to social media, she wrote: "Last 1.5 years was a time of observing and experiencing how much people talk and write about 'defending', 'defense' – of titles, ranking position, points…
Click here to join our WhatsApp community to be the first to receive breaking and exclusive tennis news
Just in Alcaraz explains reasons he skipped US Open practice after raising injury fears[LATEST]
"I was surprised sometimes to start to think this way because of this. But… I don't need to defend anything and this is a good moment to write down some thoughts. For me sport is a cycle of constant changes exactly like in everyday life, we can either win or lose – that's it, it's so simple. New season, next tournament, new opportunities to GAIN, ACHIEVE, not defend something. Clean slate."
The 15-time title winner also addressed those who thought she could have had a more successful North American hard-court swing, as she also lost in the semi-finals of the Canadian Open and the Cincinnati Open. "During this year's US swing I could win and achieve more, that's for sure. I know some of you expected more, many of you expected 'defending' the no 1 ranking, the title," she continued.
We use your sign-up to provide content in ways you've consented to and to improve our understanding of you. This may include adverts from us and 3rd parties based on our understanding. You can unsubscribe at any time. More info
Don't miss…
Gauff's coach takes aim at US Open rival and asks Sky Sports to change schedule[LATEST]
US Open star set to fire her boyfriend as coach despite success at home event[LATEST]
Ben Shelton ends 30-year unwanted US Open streak ahead of Novak Djokovic match[LATEST]
"But I stick to my mindset: when I work hard, I'm developing myself and doing my job, I will create many more chances to WIN, to ACHIEVE my goals and not to defend. The way to do it is to constantly focus on my high standards in what I do and learn from the best in this sport and from my team."
In a parting message to her fans, Swiatek added: "And yes… What a journey it was as a number 1 in women's tennis! Thank you for being with me on this. I will try to appreciate this time before I go forward, trying to achieve more. Last but not least… Many thanks for all your support and positive messages you're sending me. It gives me a lot of energy to work hard."
Source: Read Full Article